Hi everyone!
Last weekend, I had the pleasure of flying along in a Cessna Citation Mustang. My first time in a light jet!
A friend told me before the flight, "Senne, you can start dreaming of your type rating because once you fly a jet, you'll instantly be sold."
Oh boy was he right!
The pilot and owner of the plane flew it to Liege (EBLG), Belgium, 2 days earlier after picking up a client and asked if I wanted to join him when flying the plane back to its home base in Antwerp (EBAW). Of course I said yes!
After arriving at Liege airport we went through security and got to the plane parked in front of the FBO next to the big birds.
Once we arrived at the airplane, the pilot started with his pre-flight checks of the exterior and cockpit, which gave me some time to shoot a few more pictures!
Isn't she a beauty?
The Mustang has room for 2 pilots and 4 passengers. Fun fact: the last people who sat in those rear seats were a famous Belgian football player and his wife.
The Mustang cockpit is a beautiful piece of modern airplane technology. Even a tall person like me (around 1.9m) can easily get in and out, despite the rather low cabin height.
"I'll just finish this, make sure you make yourself comfortable for the flight", the pilot said while going through his pre-flight checklists. I must admit it was quite easy to get comfortable in those seats with that view!
The flight from Liege to Antwerp was only around 15 minutes, but those were some very fun 15 minutes!
After about 12 minutes of flying, we started our ILS approach for the RWY 29 at Antwerp Airport. About 5NM before the airport, he turned off the autopilot and let me hand fly the Mustang until just above the threshold. What a great airplane to fly! The electronic trim on the yoke just under your right thumb made it easy to adjust the trim when maintaining the right glide slope.
Back in Antwerp, we parked next to some other very cool toys.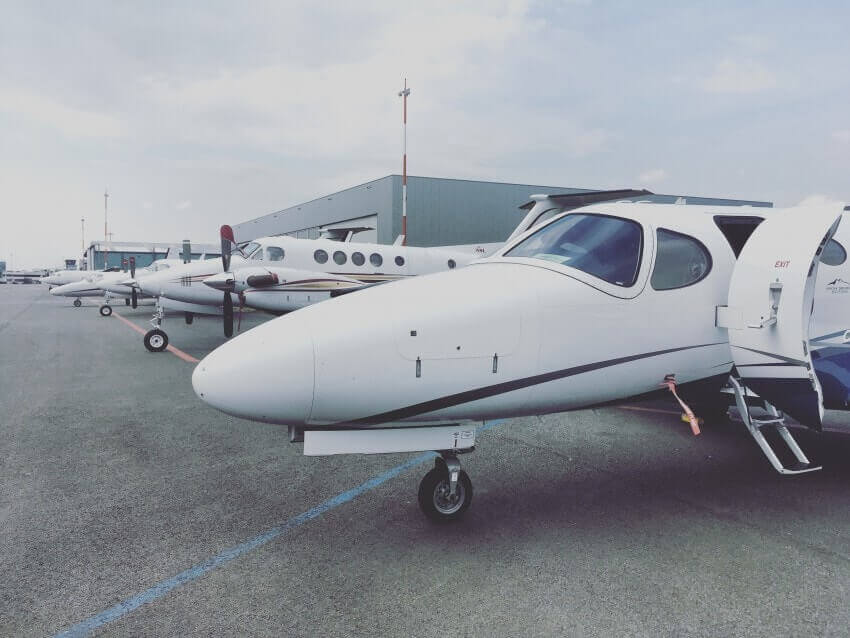 Let's hope one day I can call myself one of the lucky people who get to fly these planes for a living. But for now, I can only keep dreaming and working hard.
All the best,
Senne
Cessna C510 Citation Mustang
General characteristics
Crew: one or two pilots
Capacity: 4 to 5 passengers
Length: 40 feet 7 inches (12.37 m)
Wingspan: 43 feet 2 inches (13.16 m)
Height: 13 feet 5 inches (4.09 m)
Empty weight: 5600 lb (2540 kg)
Useful load: 3130 lb (1420 kg)
Max. takeoff weight: 8645 lb (3930 kg)
Powerplant: 2 × Pratt & Whitney Canada PW615F turbofans, 1460 lb thrust (6.49 kN) each
Performance
Maximum speed: Mach 0.63 (483 mph, 777 km/h)
Cruise speed: 340 ktas (390 mph, 630 km/h)
Range: 1167 nmi (at max. takeoff weight) (1,343 mi, 2,161 km)
Service ceiling: 41000 ft (12500 m)
Rate of climb: 3010 fpm (917 mpm)
Thrust/weight: 0.337 (at max. takeoff weight)
Takeoff distance: 3,110 ft (948 m)
Landing distance: 2,380 ft (729 m)
Avionics