Do you own a non-Bluetooth aviation headset but always wished you could enjoy Bluetooth functionality, without upgrading to a new expensive headset?
Then Faro's new AudioLink adapter is a great option!
Faro AudioLink
We have been a fan of Faro Aviation for a long time. The US-based headset manufacturer creates quality but affordable aviation headsets, for every budget. Their headset models range from the low-budget Faro G2 PNR, to the Faro Air in-ear headset, the Faro G2 ANR version and the more advanced Faro G3, which offers ANR, Bluetooth and a light carbon fiber structure. I personally own both the Faro Air and Faro G2 ANR models, both of which I love and frequently use myself or for my passengers.
Recently, the company quietly launched a new accessory: the Faro AudioLink. This device enables you to turn any aviation headset into a Bluetooth enabled one, saving you hundreds of dollars on possible headset upgrades!
How does it work? Simple: You just plug your headset with GA plugs into the adapter, after which you use the adapter's jacks to plug into your aircraft's radio or intercom. All it takes is two AA-batteries, and you're ready to connect your phone, iPad or other Bluetooth device wirelessly to your headset and enjoy the benefits of listening to music in-flight, or receiving audio alerts from Foreflight, Garmin or other EFP apps.
The idea is so simple that you start to wonder why other brands have not brought anything similar to the market!
Specifications:
Compatible with all headsets (Dual GA Connection)
Audio Priority Modes with Auto-Mute
3.5 MM Auxiliary Input (Cable included)
Bluetooth connectivity for Music and Phone calls
Powered via Two AA Batteries (not included) or USB (cable included)
Volume control for transmissions
Volume control for Bluetooth device
And here comes the best news: you can get 10% off when using the coupon code HANGARFLIGHTS at checkout! That brings the price down to just $125.99!
Do you have an older aviation headset that you wish had Bluetooth? With this device, it's easier and cheaper than ever!
Want to learn more about picking the right aviation headset?
10 Questions to Ask Yourself When Buying an Aviation Headset
Here are ten of the most important questions that should be asked when looking for a (new) aviation headset in 2022!
Related articles worth reading
Axis In-ear Aviation Headset Review
The friendly team at AXIS Headsets were kind enough to send us their lightweight in-ear aviation headset to review. Let's take a look at what we found!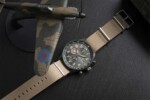 About the author
Senne Vandenputte
As a 27-year-old digital entrepreneur, glider pilot, private pilot and tow plane pilot, Senne is passionate about aviation. He started gliding at age 14 and flew his first solo in a glider at 15. After getting his PPL about 10 years later, he mostly spends his weekends towing gliders into the air. When not flying, he runs his marketing & web design business, fun projects like Hangar.Flights, scuba diving, traveling and enjoying the outdoors.