11 July 2017 - 1.3k views
Posted in Training
Road to the Right Seat 30 – Home
5 min read
Story series: Road to the Right Seat
We've all had a crazy childhood dream and mine was becoming an airline pilot. Many young people who aspire a flying career are unaware of the content of flight training and the preparations which are needed. On November 23rd, 2015 I started my ATPL(A) training. Time to realize my childhood dream. I'd like to take you along on an adventure and I'll happily answer all your questions on the way. Let's do this!
---
Tuesday April 4 was an important day. Not only did I succeed for the Instrument Rating Test, it was also the last time I flew a real airplane during my flight training. The next and final step is the MCC/JOC which will take place in Brussels. It feels good to be home!
Instrument Rating Test
After I passed PT6 (Progress Test 6), there was another sim and a flight in preparation for the IRT (Instrument Rating Test). The perfect opportunity to take on the comments I received after my test. Together with my instructor, I discussed the whole test so that we could use the last two missions for the big exam purposefully and effectively.
After a day of rest, I received the news that I would take the exam on Tuesday. Just like PT6, I would fly to Bournemouth, so no unknown route! Still, it's up to you to properly prepare the flight, no matter how well you may know the route.
At 4:45 pm the alarm went off. The big day had arrived! I checked the weather from my bed and started to get ready. I didn't really have stress, but it is and will, of course, be an exam. At 6:15 pm I took the bus to school. I left sooner than usual so I could prepare myself extra well and in a relax way.
In order to keep everything organized, I filled a folder with all my paperwork and did not arrive later than my examiner. Time for the briefing!
As with PT6, the whole flight was discussed. Which route do we follow? Who is responsible for what? What does the examiner expect? All questions were answered. As soon as that was done, I gave a standard briefing with my expectations of the flight. For example, we could deduce from the weather maps that the wind would turn more than 180 degrees during flight.
After the briefing ended, I could do my pre-flight checks at the airplane. The perfect opportunity to get some fresh air and to unwind. It would be the last real flight in my training as a pilot and I had to enjoy it. No stress, but eager to go flying!
The content of the flight was practically the same as that of PT6, but this time everything went a lot more smoothly. We flew to Bournemouth for an ILS and there I received a simulated engine failure again. On the way back to Oxford followed the general handling exercises.
Upon our arrival in Oxford, I did an NDB with a circling approach. That is basically a normal approach, but the big difference is that it is not in line with the runway. So we need to "circle" around the airport so that we can land visually.
I finished the test with a good landing and soon we got back to the parking spot. Just take all the stuff out of the plane and go to the de-briefing! I didn't have many concerns, but it was an exciting moment.
"You did well! Congratulations, you passed."
Goosebumps and a big smile on my face. SUCCESSFUL! What a great feeling and a great way to end my adventure in Oxford. Now it was time to put all the paperwork in order, pack my stuff and go home. A great relief!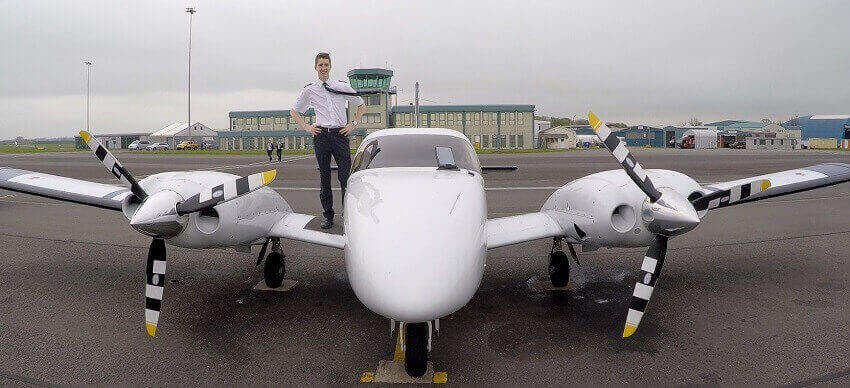 When taking this picture, there was just a little more wind than I thought.
Oxford
In the past three months, I got to know a lot of new people. People who, like me, strive for a place in the cockpit and people who do everything they can to make it happen. Great personalities that I am very grateful for. Being away from home is never simple, but the good care of these people was a great help.
The weather was not always in our favor, my instructor was suffering from his health and the planning wasn't always optimal, but it was successful. In three months, I learned a lot of new things. Not only about flying, but also about myself and how I evolved as a student pilot throughout my training. We adapt, we are flexible and together we make the best of everything.
Nevertheless, flying in the UK was an unforgettable experience. We flew through turbulent clouds, saw ice on the wings and found ourselves in a rainstorm regularly. But there was space for heavenly days, sunsets over the clouds and lots of beautiful views. Memories I'll carry with me for a very long time!
Home
After 4 months in Arizona and 3 months in Oxford, I'm very happy to be home again. These were seven long but very interesting months. Now it's time to visit family and friends without the pressure of having to leave again soon.
I would like to take this opportunity to thank everyone who has supported me in recent months. My parents and sister, my girlfriend and all my family and friends. I have not yet reached my goal, but without all these people I would never stand where I stand now.
Thank you!
---
If you have any further questions about my training, feel free to leave a comment below. See you next week!
This story is part of the series Road to the Right Seat