Propellers were the driving force behind aircraft and aircraft engines for more than 100 years, and remain one of the most important aircraft components today. Since aircraft propellers are one of the most iconic symbols of aviation, it is no surprise that they make for great decoration.
Whether you're looking for the perfect decoration to spruce up your living room or want a fun conversation starter in your entryway, decorative aircraft propellers are just what you need. In fact, aircraft propellers are so popular as home decorating pieces because they are not only aesthetically pleasing but also serve to remind us all how incredible flight technology has become over time.
They're the perfect way to spruce up your home or office, and they make excellent gifts for friends, family members and business associates who share your love of all things aircraft-related.
Aircraft propellers make a great decoration for aircraft aficionados and pilots alike.
If you're looking for the perfect finishing touch on your aviation-themed home then check out these 12 stunning aircraft propeller designs! Because nothing symbolizes aviation history more simply and evocatively than propellers.
6 Authentic Decorative Aircraft Propellers
Aircraft propellers come in all shapes and sizes which means that there's something for everyone.
Add a vintage flair to your room with these 10 decorative vintage aircraft propellers!
1. Authentic Models, Vintage Blue-Tipped 4/6-Foot Propeller
Sculpted in wood, distressed and finished in an age smooth patina. This high-quality propeller is a great addition to any home or office.
This propeller is available in a 4-or 6-foot version, so depending on the size of your room you can choose between either of those two sizes.
Measures 47.3″ x 4.8″ x 2.3″ (4 feet) and 73.2″ x 5.9″ x 3.5″ (6 feet)
2. Authentic Models, Sopwith Star 4/6-Foot Propeller
A faithful replica of the classic Sopwith model, a well-known British WWI single-seat biplane fighter airplane. The Sopwith was the mainstay fighter plane of the British and USA air forces in the early 1900s. Brightly painted in various national colors, it ruled the skies for a number of years.
Available in either 4 or 6 feet, this great-looking propeller has large white tip markings with a red/blue star decal.
Measures 47.3″ x 4.8″ x 2.3″ (4 feet) and 73.2″ x 5.9″ x 3.5″ (6 feet)
3. Authentic Models, Vintage Sopwith 4/6-Foot Propeller
Another Sopwith-inspired propeller, available in 4 and 6 feet. With a smooth, somewhat distressed honey surface and punched serial numbers around the hub, this stunning replica aircraft propeller will surely be a conversation starter.
It even includes the original 1030s maker's decal.
Measures 47.3″ x 4.8″ x 2.3″ (4 feet) and 73.2″ x 5.9″ x 3.5″ (6 feet)
4. Authentic Models, Vintage Star 4/6-Foot Propeller
If you prefer a more military-inspired aircraft propeller, then this vintage star design is perfect for you. Painted in a khaki green color, this replica aircraft propeller is sure to add some patriotic flair to your decor.
Available in either 4 or 6 feet, this great-looking propeller has white tip markings with a blue/white star decal halfway one propeller blade.
Measures 47.3″ x 4.8″ x 2.3″ (4 feet) and 73.2″ x 5.9″ x 3.5″ (6 feet)
5. Authentic Models, Four Bladed Wooden Propeller
As WWII progressed, every opportunity to gain advantage was seized. Although engine capacity in fighter planes was increasing, it was meaningless unless propellers were likewise changed to allow that extra power to generate more speed.
Increasing the blades' length in order to take advantage of the higher power would result in them contacting the ground during takeoff and landing. The introduction of the four-blade propeller was the answer.
Looking for something a little bit different? Then this 4 bladed wooden propeller might be the choice for you.
Measures 47.2″ x 47.2″ x 2″
6. Authentic Models, Vintage Black Tips, Large
To protect the propeller from damage caused by flying particles in the air during landing, taxiing, or takeoff, metal strips were often added to the tips.
Not only did this have a practical purpose, but it also gave aircraft propellers a very striking appearance. And if there's one thing we're looking for in a great decorative aviation-style interior piece, it's that striking appearance!
Featuring a beautiful wood finish, vintage decals and metal tips, this 6-foot propeller looks like it came straight from a 1940s aircraft.
It might be one of the more expensive decorative propellers on this list, but it's definitely one of the most authentic, large and beautiful ones as well!
Measures 73.2″ x 5.9″ x 3.5″
6 Cheaper Decorative Aircraft Propeller Alternatives
Most of the propellers mentioned above can be quite pricey. They are all of very high quality and crafted from real (pine)wood treated with wax and covered in beautifully detailed markings.
But for those on a little tighter budget, here are a few inexpensive alternatives that don't break the bank:
How to Use a Propeller in Home Decoration
Propellers are the perfect way to add aircraft flair to any room in your home or office.
You can jazz up a bookshelf, place one on top of your mantle for decoration, or even hang one from the ceiling if you're feeling particularly adventurous. Aircraft propellers make great decoration pieces for any room in your home, and they're a great way to show your love of aviation.
Here are a few practical suggestions on how to use aircraft propellers in your home interior.
1) Hang an aircraft propeller over your fireplace mantel for a unique decoration piece that will add a touch of aviation-style to your home.
2) Place an aircraft propeller on top of a bookshelf to add some flair and visual interest to the room.
3) Use aircraft propellers as wall art by hanging them on the walls in strategic locations. This is a great way to add some character to a bland wall.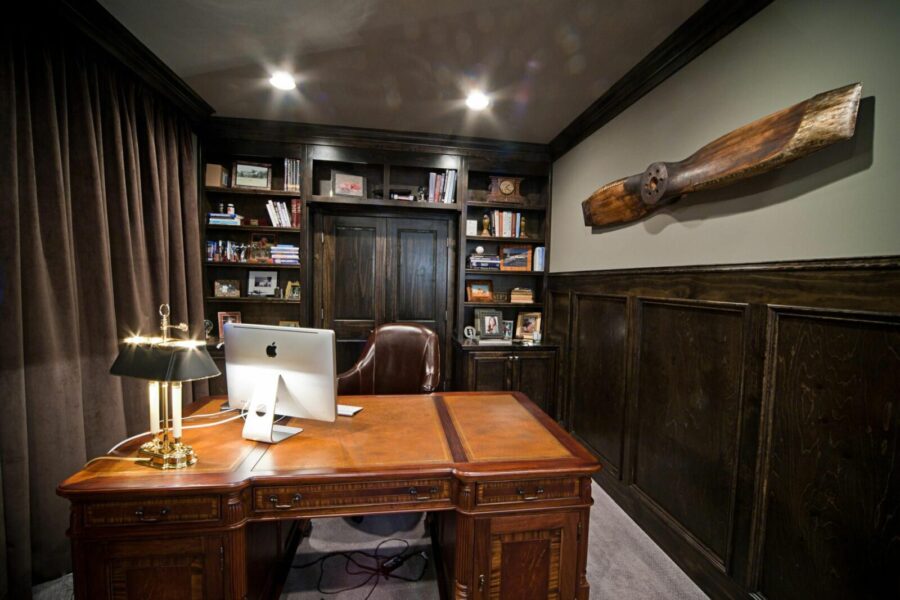 4) Add an aircraft propeller to your desk as a unique and interesting way to decorate your work area.
5) Use aircraft propellers as centerpieces on your dining room table or coffee table. This is sure to spark conversations with guests!
6) Don't have much space in your home? No problem! Aircraft propellers can look great standing up in a corner as well!
Final Words
Whatever your home decorating needs may be, aircraft propellers are the perfect decoration pieces for aircraft aficionados and pilots alike!
Add a touch of aviation style to any room in your home with these beautiful and unique aircraft propellers. They make great conversation starters and are sure to add interest and flair to any décor.
Related articles worth reading
About the author
Senne Vandenputte
As a 27-year-old digital entrepreneur, glider pilot, private pilot and tow plane pilot, Senne is passionate about aviation. He started gliding at age 14 and flew his first solo in a glider at 15. After getting his PPL about 10 years later, he mostly spends his weekends towing gliders into the air. When not flying, he runs his marketing & web design business, fun projects like Hangar.Flights, scuba diving, traveling and enjoying the outdoors.