Pilot watches have existed since the first human flights more than a century ago. Since then, the pilot watch has evolved, incorporating a sleek, stylish, and dressy aesthetic without sacrificing the original concept of being an aviation instrument: telling time in multiple locations (including military), measuring altitude, calculating speed and distance traveled, as well as time zones and other functions.
Just like a pair of quality aviation sunglasses, the best pilot watches can not only round off the snazziest of outfits, they're still practical for aviation.
From sleek, minimalistic pilot watches, to advanced watches packed with the latest aviation technology, we compiled this list of the best pilot watches for every budget.
In a Hurry? See Our Top Picks
Just click on any image below to see ratings and reviews on Amazon.
If you're interested in learning what to look for when buying a pilot watch, make sure to read our buying guide below as well!
The Best Pilot Watches Under $500 in 2023
Most pilots prefer to spend their money on fuel instead of expensive watches and fashion apparel. Luckily, there are many great pilot watches you can buy for less than $500.
1. Seiko Chronograph SNN241
Seiko's model SNN241 is a refined and polished luxury dress watch that, while affordable, doesn't lack in quality. It's sleek design and pristine functional ability make it one of the best watches available in the sub $100 price range. The construction features a stainless steel body and a contrast-stitched leather band that make this watch appear much more luxurious and high-class than you'd initially imagine.
2. Citizen Eco-Drive Promaster Nighthawk
Soar to new heights with Citizen Eco-Drive Nighthawk, a flight watch for both novice and professional pilots. Nighthawk features a pilot's slide rule dial ring operated by a crown at the 8 o'clock position, dual time, date, non-reflective crystal and large luminous markers and hands for easy readability. Stainless steel with 42mm screw-back case. Featuring our Eco-Drive technology – powered by light, any light. Never needs a battery.
3. AVI-8 Hawker Hurricane
The AVI-8 Hawker Hurricane is the classic aviation-inspired chronograph. Classic case shape lines house detailed dials, colours, and graphics that celebrate the spirit and adventurism of an era gone by. Straightforward hour indexing, bold hands, and detailed vintage designed subdials of the chronograph are all blended to create a timepiece that is elegant in design, precise in performance and stylish in its comment on the wearer. Strapped with a genuine leather strap that is both dressy yet casual, this is a timepiece that nods to chivalry and performance.
Bonus: Get 20% off when using our discount code HANGARFLIGHTS at checkout!
4. AVI-8 Spitfire
AVI-8 recently (beginning 2020) announced the launch of its Spitfire range of timepieces, with the first model titled the Spitfire Automatic Type 300 Edition -paying tribute to the prototype Supermarine developed in 1934. Inspired by the lines, form, and design of the famed World War 2 era fighter, AVI-8 delivers a unique take on a stylish timepiece that draws from one of the most famous aircraft to have ever flown.
Bonus: Get 20% off when using our discount code HANGARFLIGHTS at checkout!
5. Laco Type B Dial Miyota Automatic Pilot Watch
Whereas in the 1940s, a Laco was an indispensable tool in the cockpit, today it is an expression of freedom. With a Laco pilot watch, you are not only wearing a precise and robust watch on your wrist, but also a piece of history.
Now updated with scratch-resistant sapphire crystal. The Laco 861690 model features a new 42mm case design that houses a proven Citizen Miyota 821A automatic (self-winding) movement. It has already become a big seller in both this Type B dial and the A dial. The hands and dial markers are treated with SuperLuminova for excellent readability in the dark.
Like the original WWII Laco watches, there is no date window. The watch includes a brown leather strap with rivets and solid stainless steel, sand-blasted case.
Want to see more budget-friendly pilot watches? Check out our separate guide with the best affordable pilot watches!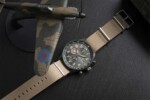 5 Affordable Pilot Watches for (Student) Pilots on a Budget in 2023
A good-quality pilot watch can be expensive, but that doesn't mean you have to break the bank to get one.
The Best Pilot Watches Under $1000 in 2023
If your budget allows for a little bit more, we found some great pilot watches for between $500 and $1000.
1. Garmin D2 Air
Building on the success of its predecessors, Garmin recently launched the Garmin D2 Air, an improved and lighter version of the standard Garmin D2, hence the name 'D2 Air'.
It's available with both a leather or silicone watchband, depending on your personal preferences.
Powerful capabilities in a slim, stylish AMOLED smartwatch with tools for preflight, in-flight and post-flight activities around town!
2. Hamilton Khaki Pilot
The Hamilton Khaki Pilot gives the wearer the feel of an early American pilot with its classic aviator design. It features a large, easy to read black dial, day and date function, brown leather, and superluminova hands. The Khaki Pilot is an essential piece of form and function for any pilot.
Related
The Best Shoes for Commercial Pilots in 2023
A pilot's uniform is not complete without a good pair of shoes. Here's our list of the best shoes for pilots in 2023!
3. Citizen Eco-Drive Promaster Skyhawk A-T Chronograph
Redefining atomic timekeeping, in the Promaster Collection, with a turbine inspired bold and powerful design. From the Citizen Eco-Drive Collection, this Promaster Skyhawk A-T watch is the perfect traveling companion, no matter where the wind takes you.
Boasting atomic timekeeping in 43 cities, this watch features a perpetual calendar, dual time, alarms and pilot's rotating slide rule bezel. The Super Titanium case showcases a black dial with bright orange accents and luminescent hands and markers for easy visbility. Completing the look is a lightweight titanium bracelet that secures comfortably with a fold-over clasp with hidden push buttons. Finally, Eco-Drive technology allows this timepiece to charge in any light, eliminating the need for a battery.
The Best Pilot Watches over $1000 in 2023
If your budget allows for the best possible quality, there are some great luxury pilot watches you can purchase.
1. Oris Big Crown ProPilot
The Big Crown ProPilot offers function-based design at its most successful. The collection is full of pioneering watches, aimed at pilots who value the ProPilot's cockpit-ready functionality and aesthetic.
2. Breitling Navitimer
An expert manufacturer and pioneer of highly technical watches, Breitling has been a major player in the development of the wrist chronograph and is a leader in this feature. This Breitling Navitimer watch is the combination of mechanical precision and superior materials and construction, which has become a hallmark of this world-renowned company. Producing timepieces of immeasurable quality, Breitling is one of the last remaining independent Swiss watchmakers.
3. Breitling Cockpit B50
Designed to represent the ultimate pilot's instrument, this innovative titanium Breitling Cockpit B50 multifunction chronograph is equipped with exclusive technology to achieve outstanding user-friendliness. Fastened with a lightweight but strong titanium professional three-row bracelet, the 46mm titanium case has a bi-directional turning bezel with compass scale, a non-screw-locked crown with two gaskets and an integrated push-piece, and is sealed with a screwed titanium case back.
What to Look for in a Good Pilot Watch in 2023
First, consider what kind of watch you like. A fashion-forward pilot watch might not be for everyone, and a more minimalistic option is better if you want to wear it with most outfits. Pilot watches come in a variety of shapes and styles, and depending on your personal taste, one style may be a better fit than another.
Second, consider your budget for the watch. A higher price point means a more sophisticated timepiece: you can find pilot watches that cost upwards of $200 but still are within most budgets. If your budget allows for a more sophisticated watch, some great options exist in the $500-$1000 price range and above, as we will mention in the list below.
Next, think about what features are important to you – do you want a compass or altimeter built-in? How about some advanced features like GPS, charts and Nearest airports? Depending on your needs, you can find a pilot watch that may offer more or less features.
We personally prefer the minimalistic watches that offer just the time and a stopwatch function. They look great with all kinds of outfits, not just when flying.
Lastly, consider the size of your wrist. – most watches are made to be worn on the outside of clothing (although some will fit comfortably inside), and they offer different-sized straps based on your wrist circumference. The larger the strap is, typically the better it fits for people with a big wrist.
Conclusion
If you're looking for a high-quality pilot watch, we have compiled some of the best pilot watches in the article above. Whether you want to splurge and get yourself an advanced, feature-rich aviation watch or just need a basic timepiece that times and perhaps a stopwatch, these watches will work for any budget. So if you are looking to buy one or upgrade your current model, make sure to check out our list before making your purchase!
To conclude, below are again some of our top picks when it comes to the best pilot watches for pilots in 2023:
Want to see more budget-friendly pilot watches? Check out our separate guide with the best affordable pilot watches!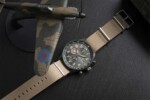 5 Affordable Pilot Watches for (Student) Pilots on a Budget in 2023
A good-quality pilot watch can be expensive, but that doesn't mean you have to break the bank to get one.
Related articles worth reading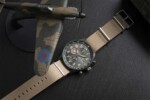 About the author
Senne Vandenputte
As a 27-year-old digital entrepreneur, glider pilot, private pilot and tow plane pilot, Senne is passionate about aviation. He started gliding at age 14 and flew his first solo in a glider at 15. After getting his PPL about 10 years later, he mostly spends his weekends towing gliders into the air. When not flying, he runs his marketing & web design business, fun projects like Hangar.Flights, scuba diving, traveling and enjoying the outdoors.