We can all agree aircraft can offer some incredible fun, but there's one type of airplane that's especially enjoyable to fly for many: ultralights.
Ultralight aircraft are renowned for delivering the purest flying experiences, which is the primary reason for their continued popularity. The appeal of taking to the skies strapped to a wing and a skeletal metal frame powered by a tiny 18 horsepower, 100 Ibs (45 kg) engine evokes the nostalgia of early years powered flight when aviator/inventors built and flew their airplanes.
Ultralights are an affordable and fun way for aviation enthusiasts – amateur flyers and professional pilots, to experience the joys of no-frills open-air flights. There are different models and brands of ultralight aircraft to choose from, depending on your wallet size and experience level. Acquiring your first ultralight aircraft can be a daunting process, and later in this article, we will take a closer look at each of the most popular ultralight aircraft models.
Assembling an ultralight aircraft from a kit is the cheapest way of getting your ultralight adventure started. You could also purchase the more expensive and larger factory-assembled models if you prefer someone else to do the heavy lifting. Either way, both options are guaranteed to deliver an incredible flying experience.
So, if you are contemplating buying an ultralight aircraft, please strap yourself in and find a comfortable position as you read our list of the top 10 most popular ultralight aircraft worth considering.
What is an ultralight aircraft?
An ultralight aircraft or vehicle (official American term) is a lightweight fixed-wing recreation aircraft designed for short-distance flights and seats one or two passengers, including the pilot. Different countries define ultralights in separate ways. For example, the European Union represents an ultralight as any lightweight aircraft with a maximum take-off weight of 450 kg (992.08 pounds).
Civil Aviation folks in the United States have a broader definition of what may constitute an ultralight aircraft. According to the Federal Aviation Authority FAA Part 103 Federal Aviation Regulations, an ultralight vehicle is a non-certified single-seat recreational or sport aircraft with an empty weight not exceeding 70.3 kg (155 pounds) if unpowered, and 115 kilograms (254 pounds) when fitted with an engine.
Types of ultralight aircraft
There are different ultralights available, and they are not just limited to fixed-wing aircraft. Examples of popular ultralight aircraft types include powered parachutes and trikes. However, helicopters and gyrocopters are also quite common, and your pick of ultralight aircraft depends wholly on your flying preferences.
Powered parachutes and paragliders
These are parafoil wings fitted with gasoline or electric-powered motors to provide thrust. They are the most affordable ultralights available.
Powered fixed-wing
These ultralight aircraft come in two types; a fixed-wing attached to an open frame design or a more conventional fixed-wing attached to a fully enclosed cockpit design. Powered fixed-wing ultralights have a more streamlined design for optimum aerodynamics, and they are among the most popular ultralight aircraft.
Unpowered
These consist of gliders and sailplanes and are flown by pilots who love the tranquility of a noiseless flight.
Trikes/weight shift ultralights
They are among the most popular ultralights available in single or two-seat versions. Trikes are powered hang gliders consisting of an open cockpit suspended beneath a hang glider acting as its wings. Trikes' only means of control is by weight shifting.
Rotorcraft
These types consist of helicopters and gyroplanes. Gyroplanes are ultralights that resemble helicopters but fly like airplanes.
Ultralight rotorcraft are considerably less expensive than traditional helicopters.
Lighter than Air
These ultralight types include hot air balloons and powered airships.
Do you need a license to fly an UltraLight plane?
The common assumption that you do not need a license to fly an ultralight aircraft is not entirely correct. Apart from the aircraft weight requirements and limits, European Union aviation regulations require a light aircraft pilot license LAPL before you can pilot an ultralight aircraft. This license limits you to sailplanes, rotorcraft, balloons, and single-engine piston planes with four seats and not exceeding a take-off weight of 2,000 kg (4,409 pounds). Pilots issued a LAPL license can only fly in weather conditions with excellent visibility (Visual Flight Rules VFR) and must obtain permission before taking off in their ultralight aircraft.
In the United States, ultralight aircraft operating under the (FAR Part 103) regulations are used for sport or recreational flights and not classified as conventional aircraft. The FAA does not issue airworthiness certificates for that ultralight category, and you do not need a license to fly them.
However, two-place (two-seater) ultralights or ultralight aircraft with an empty weight exceeding 115 kg (254 pounds) operate under the GA Rules (Part 61 & 91), which mandates pilots to have at least a sport pilot certificate before operating this category of ultralight aircraft. Pilots flying with a passenger must have obtained a recreational pilot license.
The 10 most popular ultralight aircraft of all times
Now let's dive into the main part of this article and look at the list of most popular ultralight aircraft we could find!
#1. Kolb Firestar I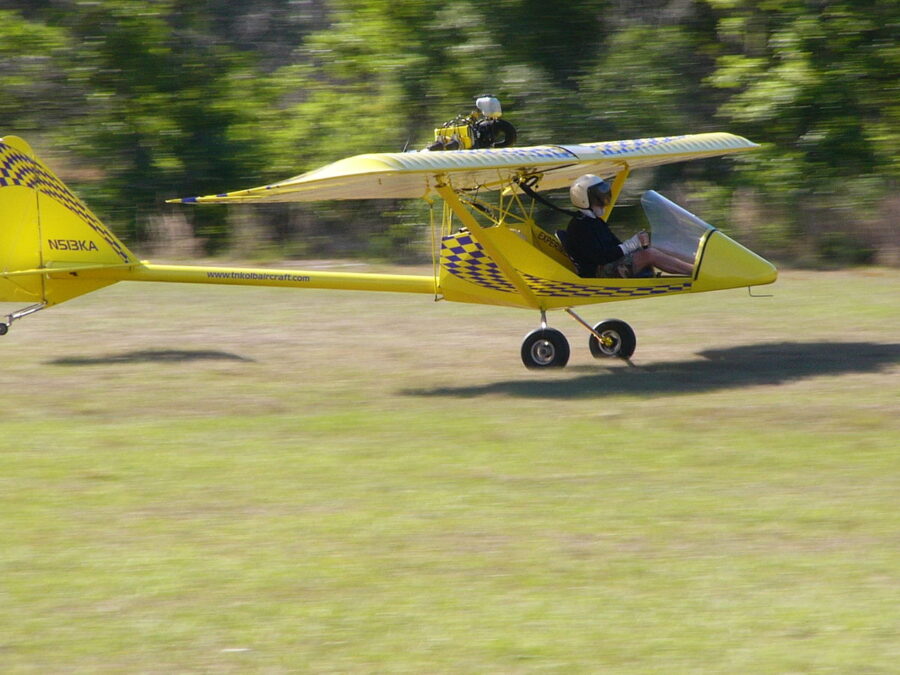 Country: United States of America
Manufacturer: New Kolb Aircraft
Introduction: 1985
Classification: Light Sports Aircraft FAR (Part 103)
Seat: One
Engine: 1 × Rotax 277 single-cylinder, two-stroke aircraft engine, 28 hp (21 kW)
Empty Weight: 115 kg (254 lb)
Cruise Speed: 85 kph (53 mph)
Build Time: 350 hours
Price: $10,000 -$11,500
The Kolb Firestar I is a classic example of how to develop the ultimate ultralight flight experience. This popular taildragger uses an open cockpit and generous high wing design mated with traditional landing gear to create one of the most versatile and delightful single-seat ultralight aircraft.
A lightweight design combined with a responsive Rotax 277 two-stroke engine provides exceptional performance, sporty handling, and an unmatched rapid climb rate by most rivals. Safety features include a rigid core constructed from aluminum and chrome steel tubing, a large gas tank (10 gals) for extended range, and conventional cable and push-pull tube controls, giving pilots greater control of the aircraft.
The Kolb Firestar I complies with The American FAR (Part 103) regulations with its single-seat configuration and maximum empty weight of 115 kg. It is available brand new in kit form, and owners can assemble the aircraft in 350-400 hours.
#2. CGS Hawk Arrow II
Country: United States of America
Manufacturer: CGS Aviation
Introduction: 1982
Classification: Special Light Sports Aircraft (SLSA) Part 103-7 Waiver for Two Seat Instruction
Seat: Two-seater
Engines: 1 x option of two-stroke, 52 hp (39 kW) Rotax 503, 65 hp (48 kW) Rotax 582, 55 hp (41 kW) Hirth 3202, 65 hp (48 kW) Hirth 3203, 80 hp (60 kW) Hirth F30, 100 hp (75 kW) Hirth 3701 and the four-stroke 60 hp (45 kW) HKS 700E.
Empty weight: 204 kg (550 Ibs)
Cruise Speed: 88.5 -128.7 Kph (55 – 80 mph)
Build Time:
Basic Price: $11,319
Engine Package Price: From $17,000
The CGS Hawk Arrow range of ultralight aircraft proves that effective customer feedback can result in awesome products. The Hawk Arrow II is a variant of the widely successful Hawk Classic. Still, it incorporates a two-seater tandem style arrangement for a better center of gravity distribution during solo flights.
It is available as a standard Experimental Amateur-Built Kit and factory-built SLSA and ELSA versions. And every single Hawk Arrow II features a sloping windshield inside a streamlined cockpit for excellent visibility and aerodynamics performance during flight. Other unique features that make the Hawk Arrow highly popular among ultralight enthusiasts include:
Semi-symmetrical airfoil and extruded aluminum wing struts.
Large vertical tail designed to produce superior yaw stability.
A raised rear tandem-seat provides unobstructed visibility.
Genuine flaps (not flaperons commonly used in ultralight aircraft) allow for a better climb rate and reduced landing distance.
An efficient cockpit design, giving pilots ample shoulder space and headroom.
#3. Earthstar Thunder Gull 2000
Country: United States of America
Manufacturer: Earthstar Aircraft
Introduction: 1987
Classification: FAR (Part 103) ultralight vehicle
Seat: One
Engine: 1 × 40-hp Rotax 447, 46- or 50-hp Rotax 503, 60-hp HKS 700E 4-stroke.
Empty weight: 112.5 kg (248 Ibs)
Cruise Speed: 101.3 kph (63 mph)
Build Time: 150 hours
Basic Price: $10,965
Engine Package Price: $15,665
The Earthstar Thunder Gull 2000 is a lightweight ultralight aircraft like no other. It is available with an impressive range of powerful yet refined engines providing pilots with a vibration-free flight. It has incredibly responsive handling, a fantastic climb rate, and outstanding fuel economy, all packaged in a spacious and sleek fiberglass single-seat enclosed cockpit.
This highly popular ultralight aircraft includes pilot seat belts, a full cabin windscreen, a jig welded roll cage, and a hitch that connects to a trailer for easy towing. The Thunder Gull 2000 is available in kit assembly and ready-to-fly versions.
#4. Aeromarine Merlin Lite
Country: United States of America
Manufacturer: Aeromarine LSA
Introduction: 2016
Category: FAR (Part 103) ultralight vehicle
Seat: One
Engine: 1 x Polini 250DS two-stroke, 35.5 hp (26.11kW)
Empty weight: 124.7 kg (275 Ibs)
Basic Price: $22,000
Engine Package Price: $31,000
The Aeromarine Merlin Lite is an ultralight aircraft with the soul and body of a real airplane. It is a revolutionary new entry into the single-seat ultralight segment, and it is poised to become among the popular ultralight aircraft.  So, what makes the Merlin Lite unique?
For starters, the aircraft features all-aluminum construction that offers better endurance, stability, and weather protection. Its state-of-art 250 DS engine is backed by thousands of hours of reliable service over several decades, providing pilots with stress-free operations. Other unique features that make the Aeromarine Merlin Lite an unforgettable flying experience include:
A roomy cockpit with a stacked instrument panel consisting of GPS, altimeter, compass, airspeed indicator, altimeter, and full EFIF with the artificial horizon.
Ample baggage space for camping gear or roll-on.
It has a windscreen, five windows, a proper door, cabin heat, and defroster vents.
Electric trim adjusters.
Tundra tires plus hydraulic braking system.
A 12-volt charging port and 3-point seatbelt.
Anti-corrosion protection.
BRS 500 aircraft rescue system.
#5. Jordan Lake Air-Bike LS 
Country: United States of America
Manufacturer: Jordan Lake Aero
Introduction: 1994
Category: FAR (Part 103) ultralight vehicle
Seat: One
Engine:1 x Rotax 447 fixed pitch, 40 hp (30 kW)/
Empty Weight: 116 (257 Ibs)
Cruise Speed: 102 kph (63 mph)
Build Time: 250
Kit Price: $2,500
This adventurous ultralight aircraft is a joy to fly and has been wowing pilots since its launch in 1994. The massive popularity of this cost-effective ultralight aircraft is significant enough to force-start production after it was discontinued.
The minimalist tubular steel frame structure of the Jordan Lake Air Bike LS ensures light and agile aircraft making the ultralight a flying delight. Pilots sit in a narrow cockpit with both legs operating a pair of rudder pedals outside the ultralight, giving the distinct impression of riding a bike.
This aircraft is available in partially assembled kit form and provides actual value for your bucks. And it is an excellent aircraft for both new and skilled pilots.
#6. NorthWing Maverick 2 RT
Country: United States of America
Manufacturer: North Wing Design
Category: FAR (Part 103) ultralight vehicle
Seat: One
Engine: 1 x 40 hp Kawasaki 440 2-stroke
Empty weight: 115 kg (254 Ibs)
Cruise Speed: 100 kph (62 mph)
Build Time: 250 hours
Engine Package Price: $21,500 – $23,500
The NorthWing Maverick 2 RT is an excellent example of what happens when you combine a hang gliding wing, an open cockpit fuselage, and a zesty 40 horsepower engine with a tricycle landing gear. The result is lightweight, affordable, and, we dare say, one of the most thrilling ultralight flying experiences ever.
You may be tempted to dismiss the Maverick 2 RT as your average FAR 103 ultralight based on its looks, do not fall for it. North Wing engineers have poured hours of relentless development into the ultralight aircraft resulting in loads of distinctive and beneficial design features. Such as an extended fuselage to expand baggage space, strutted airframe components to increase the wing load rating, foldback wings for more accessible storage and transport, and so much more.
This popular ultralight aircraft is available in 2 versions; the Maverick 2 RT(no fairing) and Maverick 2 Legend(streamlined fairing).
#7. U-Fly-It Aerolite 103
Country: United States of America
Manufacturer: Aero Works Inc, U-Fly-It Sports Aircraft, LLC
Introduction: 1997
Category: FAR (Part 103) ultralight vehicle
Seat: One
Engine: 1 × Rotax 447 fixed pitch, 40 hp (30 kW)
Empty Weight: 125 (275 Ibs)
Cruise Speed: 102 kph (63 mph)
Build Time: 60-80 hours
Basic Airframe Kit Price: $15,950
Engine Package Price (pre-assembled): $26,039 – $31,650
The Aerolite 103 is a handsome high-winged ultralight fitted with external struts welded to a tubular frame and an enclosed cockpit. Since the Aerolite 103 is sold in ready-to-fly units, customers have a range of customization options, including digital instruments, a wide range of color selections, and tundra tires.
Standard options on both pre-assembled and kit units include:
Reduction Drive
2 Blade Tennessee Props.
Nose Fairing.
A large clear windscreen.
Electric Flaps
Steerable nose wheel with suspension.
Fully anodized fuselage.
Etc.
#8. Composite FX XEL Helicopter
Country: Canada
Manufacturer: Mosquito Aviation, Composite FX
Category: FAR (Part 103) ultralight vehicle
Seat: One
Engine: 1 x MZ202 air-cooled engine.
Empty weight: 142 kg (312 Ibs)
Cruise Speed: 101  kph (70 mph)
Kit Price: $41,000
Factory Assembled Aircraft: $52,000
The XEL is the only ultralight helicopter to make this list. This small aircraft has a fiberglass frame design to save weight, which also helps its performance and handling characteristics. Unlike other ultralights, it offers a distinctive flying experience, and it is fitted with floats for water landings.
#9. Pterodactyl Ascender
Country: United States of America
Manufacturer: Pterodactyl Limited, DFE Ultralights
Introduction: 1979
Category: FAR (Part 103) ultralight vehicle
Seat: One
Engine: 1 × Xenoah 242 two-stroke, 16 hp (12 kW), Cuyana 430R, two-stroke, 35 hp (26kw)
Empty weight: 98 kg (215 Ib)
Cruise Speed: 89 kph (55 mph)
Complete Kit Price (1981): S4,200
Arguably one of the most significant ultralight aircraft designs of its era, the Pterodactyl Ascender is based on the Manta Fledge performance hang gliders popular during the 1970s. Introduced during the Oshkosh Air Show in 1979, the Ascender featured revolutionary flight controls unseen in a rigid wing ultralight, including weight-shift pitch control and tip-rudders for yaw and roll control.
The Pterodactyl Ascender was produced briefly during the 1980s with a total production of 1,400 units. DFE Ultralights are currently building it as the DFE Ascender III series.
#10. Buckeye Dragonfly Powered Parachute
Country: United States of America
Manufacturer: Buckeye Aviation
Category: FAR (Part 103) ultralight vehicle
Seat: 1
Engine: 1 x Subaru 4-stroke, 34 hp
Empty weight: 108.8 kg (240 Ib)
Cruise Speed: 41.8 kph (26 mph)
Build Time: 24 hours
Price: $12,000 – $14,000
Powered parachutes provide the purest ultralight flight experience, and the Buckeye Dragonfly Powered Parachute does not disappoint. This kit assembly aircraft is available in three and four-wheel models with a 360 sq ft. chute as standard.
Handling and performance are very refined with responsive controls, which are through a single center column controlling throttle, ground and in-flight steering. The Dragonfly Powered parachute combines lighter-than-air with a light aircraft chassis to provide new and veteran pilots with a fun and safe aerial adventure.
Conclusion
Interest in ultralight aircraft has expanded significantly during the last few decades, with thousands of flying clubs, online forums, and resources available in several countries. Newbie pilots and potential buyers of ultralight aircraft owners can join these clubs and obtain helpful information on the best type of ultralights to buy, weight restrictions for their area, and flight instructions.