During a tour of an early production Lockheed Constellation on 19, 1944. Orville Wright, who, alongside his brother Wilbur invented and flew the first powered airplane, remarked that the wingspan of the Lockheed Constellation (123 feet) was three feet longer than the flight distance of his plane during its historic first flight in 1903.
One of the largest planes of the time, the Lockheed Constellation, represented the pinnacle of aviation developments ushering in an era of large, pressurized passenger airliners.
Today, larger and longer airplanes routinely carry people and cargo worldwide. Although, the novelty of five-story high double-decker airplanes capable of producing enough energy to power a small city has all but faded from a travel-weary public. You still can help but wonder about the level of engineering involved in getting the world's largest airplanes off the ground.
We have created an impressive list of the 10 biggest civil and military airplanes of extraordinary length, wingspan, passenger capacity, and cargo volume. And by 'large airplane,' we refer to any aircraft with a certified maximum takeoff weight (MTOW) above 5,700 kg (US) or a plane having a similar takeoff mass according to European Aviation Safety Agency EASA rules.
Related
16 of the Biggest Helicopters in the World Ever Built
Big helicopters can perform some very significant roles. Here's a list of the top 16 biggest helicopters in the world!
The 13 Largest Airplanes Ever Made
13. Hughes H-4 Hercules
Maximum Take-Off Weight: 180,000 kg (396,832 Ibs)
Country of Manufacture: United States
Manufacturer: Hughes Aircraft
Role: Heavy Transport Flying Boat
First flight: 1947
Crew: 3
Height: 24.18 m (79.4 ft)
Wingspan: 97.82 m (320.11 ft)
Length: 66.65 m (218.8 ft)
Engine: 8 x Pratt & Whitney R-4360 Wasp Major 28-cylinder air-cooled piston engines, 3,000 hp (2,200 kW)
Dubbed "Spruce Goose" by the media, Hughes Aircraft's H-4 Hercules was one of the largest airplanes ever built and the largest flying boat of the era. It was conceived as an airborne WWII military transport and could (in theory) ferry seven hundred and fifty troops or a couple of M4 battle tanks across the Atlantic.
The development of the H-4 was fraught with controversies. First was the decision to make the airplane out of birchwood due to wartime metal restrictions. Then the project was late and over budget. Howard Hughes, the owner of Hughes Aircraft, managed to get the airplane airborne 70 feet over Long Beach for around thirty seconds before making a smooth touchdown.
You can view the only Hughes H-4 Hercules built at Oregon's Evergreen Aviation and Space Museum.
The Hughes H-4 Hercules wingspan was the largest of any aircraft since 1947 until it was surpassed by the Scaled Composites Stratolaunch airplane in 2019.
12. Boeing B-52 Stratofortress
Maximum Take-Off Weight: 219,600 kg (488,000 Ib)
Country of Manufacture: United States
Manufacturer: Boeing
Role: Strategic Bomber
First flight: 1952
Crew: 5
Height: 48.5 m (159.4 ft)
Wingspan: 56.4 m (185 ft)
Length: 12.4 m (40.8 ft)
Engine: 8 x Pratt & Whitney TF33-P-3/103 turbofans, 17,000 Ibf (76kN) thrust each
Imagine earning your bomber pilot's wings today and being assigned to fly the same type of airplane your granddaddy flew sixty years ago. One of the largest airplanes ever made, the Boeing B-52 ultra-long-range, subsonic, the strategic bomber, has been described as the long rifle of modern warfare. Introduced almost 70 years ago as the United States' first line of nuclear defense. It is the only operational airplane powered by eight engines and can fly halfway across the globe to drop its bombs without refueling.
Also called the Big Ugly Fat Fella (BUFF), Boeing B-52 was the heaviest plane of its era at its launch, with an MTOW of over 220 tons and a weapons payload of around 70,000 Ibs (31,751 kg).
Related
Boeing B-17, B-29, and 8 Other Great American Bombers of WW2
We have compiled a list of the ten great American bombers of WW2. It is a roll call of the largest, heaviest, toughest, most famous, most complicated, and the deadliest bombers in WWII.
No other military aircraft can match the long-lasting impact of the longest-serving war platform ever conceived. Today, the B-52 is one of the oldest military airplanes in continuous service. However, the United States Airforce is not keeping the old girl around for purely sentimental reasons. B-52's low operating costs and excellent subsonic performance are why it will continue to strike terror on battlefields around the globe a hundred years after its introduction.
Fun fact: the B-52 Stratofortress is the only military airplane to be flown by three generations of the same family. In 2010, Lt. Daniel Welch of the USAF followed his grandfather, retired USAF Col. Don Sprague, footsteps by becoming a B52 flight officer.
11. Airbus Beluga XL
Maximum Take-Off Weight: 227,000 kg (500,499 lbs)
Country of Manufacture: European Consortium
Manufacturer: Airbus
Role: Outsize Freight Aircraft
First flight: 2018
Crew: 2
Height: 18.9 m (62 ft)
Wingspan: 60.3 m (197.10 ft)
Length: 63.1 m (207 ft)
Engine: 2 x Rolls Royce Trent 700 Turbofan, 316 kN (71,000 lbf) thrust each
When Airbus discovered transporting aircraft parts by land was a cumbersome and slow process, they built an oversize airplane and named it after an Arctic whale. The Beluga XL is Airbus's latest iteration of their successful oversize freight aircraft. Based on the existing A330-200F design, it is one of the largest airplanes ever built, with a cargo volume of 2,209 cubic meters – the world's largest.
The Beluga XL can take two A350 XWB wings, one more than the original Beluga. The first Beluga XL began operating in 2020, and Airbus plans to build six Beluga XL airplanes, with the last one entering service by 2023.
Fun fact: the Airbus Beluga XL airplane is larger than two blue whales, the largest mammal in the world.
10. Antonov An-22 Antei
Maximum Take-Off Weight: 250,000 kg (551 156 Ibs)
Country of Manufacture: Soviet Union
Manufacturer: Antonov
Role: Outsize Strategic Airlifter
First flight: 1965
Crew:  5 -6
Height: 12.53 m (41.1ft)
Wingspan: 64.4 m (211.3 ft)
Length: 57.92 m (190 ft)
Engine: 4 x Kuznetsov NK-12MA turboprop engines, 15,000 shp (11,000 kW) each
Designed as a heavy military transport aircraft, the An-22 is one of the largest airplanes ever made. It is powered by four Kuznetsov engines capable of lifting 80,000 kg (176,370 lb) maximum payload for a distance of 5,000 km (3100 mi). Its high-mounted wings provide excellent ground clearance for loading the 639 m³ of cargo space designed to haul four Soviet BMD-1 armored combat vehicles.
The An-22 remains the heaviest and largest turboprop aircraft in existence, with the ability to operate from rugged and unpaved runways. Its primary use is the Russian Air Force, and it has participated in numerous humanitarian airlifts and military operations around the globe.
Fun fact: The An-22 is the first wide-body transport airplane and the heaviest until the Lockheed C-5 Galaxy.
9. Boeing 777-9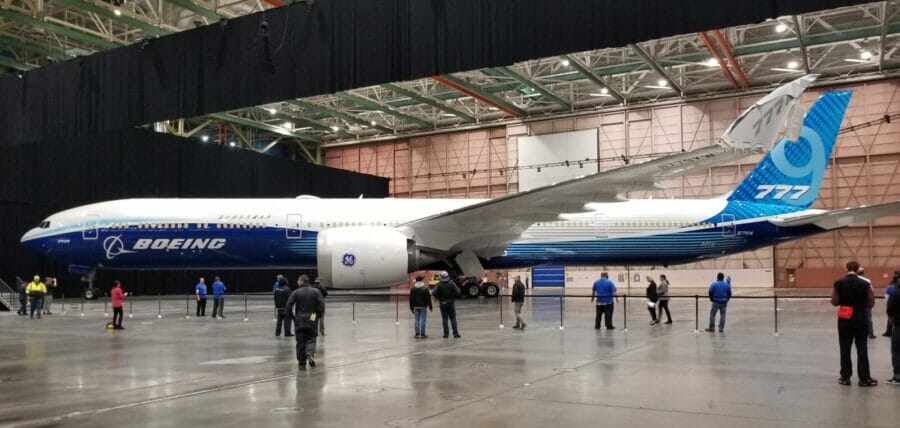 Maximum Take-Off Weight: 351,534 kg (775,000 lbs)
Country of Manufacture: United States
Manufacturer: Boeing Commercial Airplanes
Role: Wide-body jet airliner
First flight: 2020
Crew: 2
Height: 19.68 m (64.7ft)
Wingspan: 71.75 m (235.5 ft)
Length: 76.73 m (251.9 ft)
Engine: 2 x General Electric GE9X-105B1A turbofan engines, 110,000 lbf (489 kN) thrust each
Developing a successor to the hugely successful 747 airliners was a massive risk, but Boeing pulled it off with the twin-engine Boeing 777 wide-body jet airliner. Then Boeing redesigned the 777 creating the largest and heaviest production twin-jet and one of the largest airplanes ever made.
The Boeing 777-9 is a true behemoth, it seats four hundred and twenty-six passengers across four classes, plus it is broader and longer than Boeing 747 airliner, the original jumbo. However, the Boeing 777-9 promises greater fuel efficiency and a more extended range due to its lightweight composite wings.
Fun fact: The Boeing 777-9 is the longest airliner globally. Its wings are so long that Boeing installed hinges allowing the wingtips to fold when parked.
8. Boeing Dreamlifter LCF
Maximum Take-Off Weight: 364,235 kg (893,001 lb)
Country of Manufacture: United States
Manufacturer: Boeing Commercial airplanes
Role: Outsized cargo freight aircraft
First flight: 2007
Crew: 2
Height: 21.54 m (70.8 ft)
Wingspan: 64.4 m (211.5 ft)
Length: 71.68 m (235.2 ft)
Engine: 4 x Pratt & Whitney PW 4062 high bypass turbofan engines, 63,300 lbf (282 kN) thrust each
When Boeing executives got fed up waiting an average of 30 days for the new 787 part to arrive, Boeing engineers took an existing 747-400 airliner, grafted a wider fuselage onto the airframe, installed a tail swing door allowing greater access into the gaping fuselage, gave it a new name, and created a worthy rival to the Antonov An-225.
The Boeing Dreamlifter is a modified outsized cargo aircraft with three times the cargo capacity of a Boeing 747-400F freighter and capable of delivering Boeing 787 wings from Japan to Boeing's Seattle plant in just 8 hours. Boeing built four Dreamlifters to haul Boeing 787 aircraft parts from its suppliers in Asia, Europe, and the United States. During the COVID-19 pandemic, the Boeing Dreamlifter flew medical supplies, including five hundred thousand face masks for Utah's high school students and teachers.
Fun fact: The Boeing Dreamlifter is 18 inches larger than the Airbus A380 fuselage, which is the world's largest passenger airplane.
7. Antonov An-124 Ruslan
Maximum Take-Off Weight: 402,000 kg (886,258 lb)
Country of Manufacture: Soviet Union
Manufacturer: Antonov
Role: Heavy transport aircraft
First flight: 1982
Crew: 6
Height: 21.08 m (69.2 ft)
Wingspan: 73.3 m (240.6 ft)
Length: 69.1 m (226.8 ft)
Engine: 4 x Progress D-18T high-bypass turbofan engines, 51,000lbf (229kW) thrust each
Designed by the venerable Antonov design bureau for the Soviet military, the Antonov An-124 is a strategic airlift military aircraft that remains one of the largest airplanes ever produced. It can carry around 150 tonnes of supplies, including 88 passengers in the aft cabin behind the wing section. Power is provided by four high bypass turbofan jet engines, each producing over 50,000 pounds of lift force.
The An-124 was the heaviest commercial airplane in mass production until it was surpassed by the Boeing 747-8F freighter in 2011. It is the largest military cargo airplane in service, and with a 20% larger cargo hold, the An-124 can haul more load than the Lockheed C–5 Galaxy military transport. Production of more An-124 stopped in 2014 due to ongoing tensions between Ukraine and Russia. However, the An-124 continues to operate flying missions for the Russian military and commercial cargo charters.
Fun fact: An-124s are used to transport finished Maglev trains from Germany to China.
6. Lockheed C-5 Galaxy
Maximum Take-Off Weight: 381,018 kg (840,000 lb)
Country of Manufacture: United States
Manufacturer: Lockheed Corporation
Role: Strategic airlifter
First flight: 1968
Crew: 7
Height: 19.84 m (65.1 ft)
Wingspan: 67.89 m (222.9 ft)
Length: 75.31 m (247.1 ft)
Engine: 4 x General Electric F138-100 turbofan engines 51,000 lbf (230 kN) thrust each
Being on the heels of the smaller C-130 Hercules, Lockheed's C-5 Galaxy was America's premier oversized military transport, and it remains the country's largest military cargo plane. The C-5 Galaxy has the largest cargo hold of any military transport in service with the United States Air Force USAF. Its four General Electric engines can routinely haul a 127-ton payload for about 7,000 miles without refueling.
The C-5 Galaxy has supported several military operations and humanitarian airlifts worldwide. It was involved in the massive army airlift to Israel during the Yom Kippur War, and upgraded versions of the airplane designated C-5M Super Galaxy are expected to remain in the service of the USAF until 2040.
The press derided the C-5 Galaxy as an expensive "white elephant" until its outstanding performance during Operation Nickel Grass. It carried almost half the total cargo delivered in 145 of the 547 total flight missions.
5. Boeing 747-8
Maximum Take-Off Weight: 447,696 kg (987,000lb)
Country of Manufacture: United States
Manufacturer: Boeing Commercial Aircraft
Role: Wide-body jet airliner
First flight: 2010
Crew: 2
Height: 19.4 m (63.6 ft)
Wingspan: 68.4 m (224.7 ft)
Length: 76.3 m (250.2  ft)
Engine: General Electric GEnx-2B67 high-bypass turbofan engine, 66,500 lbf (296 kN)
The Boeing 747-8 is the largest and final variant of the 747 "Jumbo jet" family of commercial airliners first introduced in 1979 with Pan American Airlines. It was the longest serial production commercial airplane before the launch of the Boeing 777-9 and one of the largest airplanes ever made.
The Boeing 747-8 shares a similar outline with the original 747 airplanes with the prominent hump feature. However, it features modern engines and advanced cockpit technology resulting in a more efficient, eco friendly, and less noisy aircraft. Significant changes to the Boeing 747-8 include stretching the fuselage by 19 meters (62.3 feet) to achieve a 16% extra payload space, including thick, broader, and deeper wings allowing the airplane to hold extra 993.4 gallons (4,516 liters) of Jet-A fuel for improved range.
The Boeing 747-8 parts are interchangeable with Boeing 747-400. It also utilizes similar engines and avionics to the Boeing 787, from where it derived its "8" variant designation.
4. Caspian Sea Monster
Maximum Take-Off Weight: 544,000 kg (1,199,315 lb)
Country of Manufacture: Soviet Union
Manufacturer: Central Hydrofoil Design Bureau
Role: Strategic Ekranoplan
First Flight: 1966
Crew: 5
Height: 21.8 m (71.6 ft)
Wingspan: 37.60 m (123.4 ft)
Length: 92 m (301.10 ft)
MTOW: 544,000 kg (1,199,315 Ib)
Engine: 10 x Dobrynin VD-7 turbojet, 28,670 Ibf (127.53 kN) thrust each
Early US spy photos of the Korabi Maket KM (Russian for Prototype Ship) sent American authorities scrambling to discover the nature of the mysterious Soviet aircraft close to the Caspian Sea. Dubbed the "Kaspian Monster" by the CIA, the KM was the largest airplane ever built from its 1966 launch until it sank in 1980.
Little is known about the Caspian Sea Monster during its existence. But records released after the fall of the Soviet Union revealed an experimental ground effect vehicle (ekranoplan) developed for military logistics and rescue operations. The Caspian Sea Monster flies just five to ten meters (16-33 feet) over a level surface (Caspian Sea) using the reduced aerodynamic drag generated by its wings. Military interest in the Caspian Sea Monster diminished during the 1970s, and the aircraft sank a week after it was damaged after a crash.
Fun Fact: alarmed by spy photos of the then-unknown Korabi Maket KM, the CIA launched a major espionage mission called PROJECT AQUILINE and built a specialty drone to determine the aircraft's purpose.
3. Airbus A380
Maximum Take-Off Weight: 575,000 kg (1,267,658 lb)
Country of Manufacture: Multinational
Manufacturer: Airbus
Role: Wide body airliner
First flight: 2005
Crew: 2
Height: 24.09 m (79 ft)
Wingspan: 79.75 m (261.8 ft)
Length: 72.72 m (238.7 ft)
Engine: 4 x Trent 970-84/970-84 turbofan, 78,000 lbf (348 kN) each
When Airbus got tired of the Boeing 747 airliner dominating the long-range, wide-body commercial jet market. They went and spent $25 billion developing the largest passenger airplane ever made – the Airbus A380 airliner, which was a technological success and commercial failure. Airbus managed to push only 251 units and made a loss on each one.
Featuring a full-length double-deck cabin arrangement for 853 passengers, the four-engine A380 'Super Jumbo" airplane is undeniably a triumph of superior engineering. However, it was conceived in an era of low fuel prices and booming passenger air travel. Today, more efficient twin-engine wide-body airliners have shifted airlines away from "hub and spoke" operations favoring the use of A380 airplanes.
Fun fact: with more than 6,000 square feet of floor area, the Airbus A380 has more room than a standard basketball court.
2. Scaled Composites Stratolaunch
Maximum Take-Off Weight: 589,670 kg (1,300,000 lb)
Country of Manufacture: United States
Manufacturer: Scaled Composites
Role: Mother ship aircraft
First flight: 2019
Crew: 3
Height: 15m (50 ft)
Wingspan: 117 m (385 ft)
Length: 73 m (238 ft)
Engine: 6 x Pratt & Whitney PW4056 turbofan 56,750 lbf (252.4 kN) thrust each
Hey! Up in the sky! It's a bird, it's a plane, it's Roc…oh yep, It's the Stratolaunch! If you think the second-largest airplane on our list has the most unconventional name, you need to see this beast in person.
Built to serve as an alternative platform for launching satellite-carrying rockets into orbit, the Scaled Composites Stratolaunch looks unlike any airplane you have ever seen – except in a sci-fi movie. Its distinctive twin-fuselage – yes, you read that right – design has the longest wingspan of any airplane ever made. The flight crew operates the aircraft from the right-side fuselage cockpit, while flight data systems are installed in the left-side fuselage.
Each fuselage has an individual tail assembly, including twelve landing gear wheels and two nose wheels acquired from the Boeing 747-400. The Stratolaunch six engines, avionics, flight controls, and landing gear are from the 747-400. The Stratolaunch would deploy its rocket payload at 35,000 ft (11,000 m) during missions. It can also launch a Dream Chaser spacecraft that transports astronauts or payloads within a 24 hr time frame.
Fun fact: the Stralolaunch wingspan is 385 feet when measured tip-to-tip, longer than a standard 300 feet football field.
1. Antonov An-225 Mriya
Maximum Take-Off Weight: 640,000 kg (1,410,958 lb)
Country of Manufacture: Soviet Union
Manufacturer: Antonov
Role: Outsize cargo freight aircraft
First flight: 1988
Crew: 6
Height: 18.1m (59.5 ft)
Wingspan: 88.4 m (290 ft)
Length: 84 m (275.7 ft)
Engine: 6 x Progress D-18T turbofans, 51,600 lbf (229.5 kN) thrust each
Our number one airplane is the Antonov AN-225, the largest airplane ever built. This remarkable aircraft has developed a cult following around the globe, with thousands thronging airports where it is expected. Two AN-225s were proposed, but only one aircraft was finished, with the other remaining in a 4060 to 70% completed stage to date.
The An-225 was developed to haul the Soviet Buran space shuttle, and it has the biggest payload capacity of any civilian and military airplane in existence. After sitting abandoned for eight years after the dissolution of the Soviet Union, the Mriya was re-engined and repurposed for commercial cargo operations. It also participated in worldwide relief efforts conveying medical supplies from China across the globe during the COVID-19 pandemic.
Sadly, on 27th February 2022, the An-225 was destroyed by invading Russian forces in its hangar at Antonov Airport, Hostomel in Ukraine, in what many consider an act of aviation terrorism.
Read next
The 10 Smallest Airplanes Ever Made and The Stories Behind Them
An extensive list of the smallest planes in the world, ranging from one-off record-chasing airplanes built in a garage to production aircraft with thousands of units in sales.
Related articles worth reading
The 14 Best Attack Helicopters in the World
Our compilation of the best attack helicopters in the world is the most comprehensive list of helicopter gunships from every era. It includes details on their firepower, dynamic handling, airspeed, advanced electronics, and gadgetry.
The 9 Best British Fighter Planes of WW2
British fighter planes of WW2 were responsible for inflicting the first German defeat of the war, buying the Allies enough time to regroup and launch the vital Normandy offensive leading to The Axis surrender.
The Best Japanese Fighter Planes of WW2
Japanese fighter planes of World War 2 rarely get the same level of respect and acclaim accorded to the Allied fighter aircraft of the same era, despite being among the best military aircraft of the war.
About the author
Senne Vandenputte
As a 27-year-old digital entrepreneur, glider pilot, private pilot and tow plane pilot, Senne is passionate about aviation. He started gliding at age 14 and flew his first solo in a glider at 15. After getting his PPL about 10 years later, he mostly spends his weekends towing gliders into the air. When not flying, he runs his marketing & web design business, fun projects like Hangar.Flights, scuba diving, traveling and enjoying the outdoors.