12 of the Most Expensive Private Jets
24 March 2022 | Updated on November 09, 2023
Here's the thing. The wealthiest 1% of the population do not stand in line at airports, nor do they travel in crowded airplanes on a six-hour flight. They prefer to travel in the style, comfort, luxury, and privacy that only a private jet can provide.
Private jets are status symbols signifying power, privilege, and personal freedom for globe-trotting individuals with hectic schedules, loads of cash, and a remote exotic getaway. Typical private jet owners include corporate CEOs, Hollywood celebrities, business moguls, and world-famous athletes.
Then there are the ultra-rich folks who make up the second group of private jet owners. They are the oligarchs, Arab oil sheiks, tech billionaires, and megastars who take the jet-setting lifestyle to an unimaginable level with their flying mansions the size of commercial passenger airliners. The private jets in this category are mostly reconfigured commercial planes with lavish cabin designs, bespoke furniture, and luxury amenities.
We are counting down 12 of the most expensive private jets in this article, and we would love you to read to number one to see the aircraft topping the list.
The Best Private Jets Between $20 and $50 Million
Private jets between twenty to fifty million range to fall in the midsize and super-midsize category. They have larger cabins than light jets, with a seating configuration for nine people and enough headroom for passengers to stand up. The average range of private jets within this price range is between 2,300 miles (3,701 km) to 4,970 miles (8,000 km), making them ideal aircraft for transatlantic flights or fast coast-to-coast flying. 
Below are our selection of the best private jets between the $20 to $50 million price range.
12. Embraer Praetor 600 – From $21,000,000
Price: From $21,000,000
Cost to operate per hour: $3,123.62
The Embraer Praetor 600 offers everything you'd expect from a luxury super mid-size private jet, including a class-leading range and a well-appointed cabin built by superior craftsmen trained to pay immaculate attention to the tiniest details. 
The Praetor 600 pressurized cabin is an excellent environment for working, sleeping, or having relaxing conversations with your fellow passengers, even at 45,000 feet. It features carbon fiber accents throughout, plush leather seats that can swivel and recline fully flat into a bed, and foldable tables are hidden entirely to create additional legroom.
Additional conveniences include a functional galley capable of producing cold drinks and warm meals, overhead touchscreens, high definition inflight entertainment provided by Honeywell Ovation™ Select Cabin Management Suite, and Viasat Ka-band and Gogo AVANCE L5 internet connectivity. The aircraft's glass cockpit is certified for two-pilot operation. It is equipped with Rockwell Collins Pro Line Fusion enhanced flight vision system and full fly-by-wire flight technology with side stick controls for smooth and safe flight operations. 
The Embraer Praetor 600 can fly further than comparable business jets within its category. It can fly five passengers with its luggage from continental Europe to the Bahamas without stopping to refuel. This jet offers versatility and more value than its direct competitors, including other private jets under $50 million.
Aircraft details:
Country of Production: Brazil
Manufacturer: Embraer
Year of Introduction: 2018
Crew: 2
Passenger capacity: 8 – 12
Maximum speed: 636.9 mph (1,025 kph, 554 kn)
Cabin Width × Height: 6 ft × 6.10 ft (1.83×2.08 m)
Engines: 2 x Honeywell HTF7500E engines producing 7,528 lbf (

33.49 kN) each 

Max payload: 1,500 kg (3,300 lb) 
Range: 4,624 mi (7,441 km, 4,018 nmi) 
Service ceiling: 45,000 ft (13,716 m)
Number Built: 21
11. Gulfstream G280 – $25,000,000
Price: $25,000,000
Cost to operate per hour: $4,600
The super-midsize Gulfstream G280 is a twin-engine private jet under $50 million that offers excellent range, impressive performance, a stunning cabin, cutting-edge avionics, and extraordinary safety features typically found on more expensive bizjets. Gulfstream set out to create a transatlantic executive jet for its well-heeled customers, and the G280 has exceeded all expectations.
The G280 designers created an almost clean sheet fuselage design paired with the traditional Gulfstream T-tail assembly resulting in a gorgeous and perfectly proportioned aircraft. The aircraft boasts a best-in-class cabin with multiple seating layouts for eight to ten passengers, a recessed center walkway offering improved headroom, large stylish oval windows offering enhanced views, and unfiltered cabin lightning. 
The G280 PlaneView280™ glass cockpit with its three 15 inch screens is certified for two pilot operations. Pilots can operate the aircraft with fly-by-wire technology and manually powered systems. Safety features of the G280 include an autothrottle system for engine control, emergency auto-descent mode, independent roll control, auto braking, and an enhanced vision system (EVSII) for reduced approach minimums. 
The G280 range results from its highly efficient Honeywell HTF7250G turbofan engines and aerodynamic wing design. This aircraft can make nonstop flights from New York to Paris and then to Abu Dhabi in the United Arab Emirates with a crew of two and five passengers plus their luggage. And there is a full-size lavatory if you need to relieve yourself during long trips. Truly the G280 offers excellent value and performance for a private jet between $30 and $50 million.
Aircraft details:
Country of Production: United States
Manufacturer: Gulfstream Aerospace, Israel Aerospace Industries
Year of Introduction: 2011
Crew: 2
Passenger capacity: 10
Maximum speed: 689 mph (1,109 kph, 598.7 kn)
Cabin Width × Height: 7.2 ft × 6.3 ft (2.2 m×1.92 m)
Engines:

2 × Honeywell HTF7250G turbofans, 7,624 lbf (33.91 kN) thrust each

Max payload: 1,814.3 kg (4,000 lb) 
Range: 4,143 mi (6,667 km, 3,600 nmi) 
Service ceiling: 45,000 ft (13,716 m)
Number Built: 200
10. Bombardier Challenger 650 – $32,350,000
Base Price: $32,350,000
Cost to operate per hour: $ 3,365
The Bombardier Challenger 650 is the latest variant of the Bombardier Challenger 600 series. The original CL-600 business jet was built by Canadair in 1980 before the company's 1986 acquisition by Bombardier. Over the years, Bombardier has made several improvements to the aircraft, including the addition of winglets, streamlined tail cones, updated avionics, and higher take-off weights. 
The Challenger 650 is a twin-engine private jet worth over $20 million with a low supercritical wing design. The aircraft has often been described as a mini-airliner because of its wide fuselage, speed, and short take-off capabilities. These features provide the Challenger 650 private jet with larger airliners' performance and comfort levels. 
Passengers inside the Challenger 650 spacious walk-around cabin are confronted with enough space to fit eleven sumo wrestlers. The standard configuration has two seating sections, a forward galley and a lavatory. The large leather seats can swivel, recline and fold completely flat at the touch of ergonomically designed buttons on the polished side ledges. A premium sound system is available if you desire to throw a mid-air party during long vacation trips, wireless connectivity, advanced HD entertainment, and high-quality soundproofing to block unwanted outside noise. 
Flying the Bombardier Challenger 650 private jet is a breeze with the advanced Rockwell Collins Pro Line 21 Advanced avionics systems. The aircraft glass cockpit is rated for two pilot operations with several safety systems designed to make your flight safe.
Aircraft details:
Country of Production: Canada
Manufacturer: Canadair, Bombardier Aerospace
Year of Introduction: 2015
Crew: 2
Passenger capacity: Up to 19 passengers 
Maximum speed: 531 mph (854 kph, 490 kn)
Cabin Width × Height: 7.11 ft × 6.0 ft (2.41m×1.83m)
Engines:

2 × General Electric CF34-3B turbofans, 41 kN (9,220 lbf) thrust each

 

Max payload: 2,154.5 kg (4,750 lb) 
Range: 4,603 mi (7,408 km, 4,000 nmi)
Service ceiling: 41,000 ft (12,497 m)
Number Built: 91
9. Dassault Falcon 6X – From $47,000,000
Price: From $47,000,000
Cost to operate per hour: $3,845
The Dassault Falcon 6X is the French company's newest twin-engine, long-range, wide cabin business jets over $20 million. It is explicitly designed to meet the needs of customers who want an efficient and comfortable private jet to travel for long nonstop flights. 
The Falcon 6X program emphasized performance, comfort, and efficiency. And the engineers managed to achieve these objectives with an aircraft design boasting of the most extended range in its class, the widest passenger cabin, and the best short-field performance in a super-midsize business jet.
The wide ergonomic cabin has room for sixteen seated passengers in three separate lounge sections. Dassault has utilized the best design ideas to create uninterrupted lines and a recessed lighting system to provide an illusion of spaciousness. Passengers also feel less claustrophobic, thanks to the large thirty windows in the aircraft fuselage and a roof-mounted skylight sitting above the entryway and fore galley. Staying connected is vital to passengers during business or holiday trips. The Falcon 6X 650 Ka-band network keeps passengers up to date with business and personal information. You can control several cabin functions with a mobile app or cabin interface.
Pilots can fly the Dassault Falcon 6X private jet using Honeywell Epic-based EASy III avionics suite. It encompasses a variety of flight management and information systems that can be monitored on four 14.1 inch screens in the cockpit. Other systems included Honeywell's IntuVue RDR-4000 radar and the FalconEye head-up display with a combined vision system (overlaid synthetic vision and enhanced vision system imagery) jointly developed with Elbit systems.
The Falcon 6X has lower running costs than its direct rivals. And to save time on maintenance costs, Dassault engineers developed the FalconScan advanced diagnostic system, which tracks and reports on the Falcon 6X 100,000 maintenance parameters. For 41 million dollars, the Dassault Falcon 6X private jet offers incomparable value. It can fly eight passengers and their luggage from Los Angeles to Moscow nonstop at optimum comfort and style. 
Aircraft details:
Country of Production: France
Manufacturer: Dassault Aviation
Year of Introduction: 2022
Crew: 2
Passenger capacity: 16
Maximum speed: 594 mph (956 kph, 516 kn)
Cabin Width × Height: 8.6 ft × 6.6 ft (2.62×2.01 m)
Engines:

2 × P&WC PW812D

engines producing

13,460 lbf (59.9 kN) each 

Range: 6,337 mi (10,200 km, 5,500 nmi) 
Service ceiling: 51,000 ft (15,546 m)
The Best Private Jets Over $50 million
This elite category of private jets includes large and heavy business jets (converted commercial airliners) with ten to nineteen seats. They combine higher payload capacity, faster airspeeds, impressive short take-off capability, high altitude performance, and ultra-long-range with luxurious intercontinental travel. 
Below are our top picks for private jets over $50 million.
8. Bombardier Global 7500 – $73,000,000
Price: $73,000,000
Cost to operate per hour: $5,406.54
The Bombardier Global 7500 offers nonstop intercontinental travel in unparalleled style, comfort, and luxury often associated with heavy business jets. Developed jointly with the Global 8000, which offers slightly less range. The Global 7500 is the world's most extended range and the largest purpose-built private jet. This business jet was built for nonstop connecting flights to cities located on opposite ends of the globe at a top speed of over Mach .85.
The Global 7500's sleek and luxurious cabin features distinctive color palettes of light and dark shad, which can be customized to suit the owner's tastes. There is enough space for nineteen passengers throughout the cabin`s four sections, including a 'Club Suite," conference and dining area, primary bedroom, guest bedroom/living area, a full-size galley, crew rest area, and a full-size shower. 
Flying the Bombardier Global 7500 is a breeze with its fly-by-wire flight controls and lightweight aluminum structure. Bombardier claims the Global 7500 is a new type of business jet targeted at a select group of ultra-rich individuals who want a heavy business jet's space, luxury, and amenities but without the enormous size.
Bombardier Global 7500 Private Jet Tour - The Aviation Factory
Aircraft details:
Country of Production: Canada 
Manufacturer: Bombardier Aviation
Year of Introduction: 2018
Crew: 2
Passenger capacity: Up to 19
Maximum speed: 593 mph (955 kph, 516 kn)
Cabin Width × Height: 8 ft × 6.2 ft (2.44 m×1.88 m)
Engines: 2 x General Electric Passport engines producing 16,500 lb / 73 kN each 
Max payload: 2,585 kg (5,700 lb) 
Range: 9,091 mi (14,631 km, 7,900 nmi) 
Service ceiling: 51,000 ft (15,545 m)
Number Built: 50
7. Gulfstream G700 – $78,000,000
Price: $78,000,000
Cost to operate per hour: $4,646.17
The Gulfstream G700 is a twin-engine widebody business jet that offers unequaled luxury, space, and range to a select few. Its development has been hailed as an essential milestone in the business jet segment.
For a princely sum of $78 million, owners get to design their airplane cabin, which at nearly 57 feet long, is one of the largest in its class. You may choose a fifteen-seat low-density configuration for exclusivity and more privacy or a nineteen-seat high-density design. 
The G700 private jet offers several cabin amenities to make your trip more comfortable. These include reclining seats that fold into beds, a private stateroom with a divan and seats, a rear conference and dining area, a 10-foot "ultragalley" for preparing inflight drinks and meals, private rest quarters for the crew, and a full-size lavatory and shower. 
Owner convenience is a vital part of the G700 design, and passengers can control most electronic amenities from a phone app or seat controls. Large high-definition entertainment screens are prominently displayed throughout the cabin, and there are twenty large windows in the cabin should you prefer natural light. 
The G700 has a fly-by-wire glass cockpit with ten touchscreen monitors, and dual active control sidesticks are the epitome of simplicity and allow pilots to monitor vital flight information in real-time easily. The G700 has proved itself to be a range champion, setting world records with its debut flight. Owners will be able to travel on nonstop intercontinental flights between any two cities on the globe while being surrounded by luxury.
Aircraft details:
Country of Production: United States
Manufacturer: Gulfstream Aerospace
Year of Introduction: 2019
Crew: 2
Passenger capacity: Up to 19 passengers 
Maximum speed: 594.03 mph (956 kph, 516 kn)
Cabin Width × Height: 8.2 ft × 6.5 ft (2.5 m×1.98m)
Engines: 2 × Rolls-Royce Pearl 700 turbofans, 18,250 lbf / 81.2 kN thrust each 
Max payload: 2,896 kg (6,385 lb)
Range: 8,690 mi (13,890 km, 7,500 nmi)
Service ceiling: 51,000 ft (15,545 m)
Number Built: 12
6. Airbus ACJ220-100 – $81,000,000
Price: $81,000,000
Cost to operate per hour: $6,000
Although the Airbus ACJ220-100 may not have the distinction of being the first narrow-body heavy business in the market. It has set the benchmark for luxury, comfort, space, innovation, and overall value compared with competing business jets from Gulfstream and Bombardier with a similar range.
With the ACJ220-100, Airbus has created a class-leading heavy business jet with the operating costs of sizable purpose-built cabin ultra range private jets while offering three times the cabin space. Ever conscious of the impact of jet travel on the environment, Airbus claims the ACJ220-100 is one of the most environmentally friendly aircraft in its class, with a 25% reduction in fuel consumption than its predecessor and 50% less noise footprint.
You get a feeling of sumptuousness and spaciousness immediately you step onboard the ACJ200-100 business jet. The large, fully customizable cabin can hold eighteen passengers in total luxury and comfort. It is designed in partnership with Comlux, a Swiss company renowned for creating innovative flying experiences.
The ACJ220-100 cabin has six different layouts that allow passengers to work, dine, mingle, and relax. Typical cabin amenities to be expected on each ACJ220-100 include bespoke furniture pieces built by highly skilled craftsmen with immaculate attention to detail, a stateroom with a king-size full shower stall, and widescreen LED TV, private bedrooms, conference rooms, a couple of lounges, offices, high-speed wifi for fast internet connections, crew rest area, and a galley to provide superb catering for VIPs.
The Airbus design team has improved the ACJ 220-100 performance and efficiency by using advanced aerodynamics and composite materials to create a lighter yet more rigid aircraft with a massive range. The ACJ220-100 can stay airborne for more than 12 hours, making nonstop intercontinental flights a reality.
Aircraft details:
Manufacturer: Airbus
Year of Introduction: 2021
Crew: 2
Passenger capacity: 18
Maximum speed: 541 mph (871 kph, 470 kn)
Cabin Width × Height: 10.9 ft × 6.11 ft (3.28 m×2.11 m)
Engines: 2 × Pratt & Whitney PW1500G engines, 18,900–23,300 lb

f

/84.1–103.6 kN each 

Max payload: 15,127 kg (33,350 lb)
Range: 6,299 mi (10,460 km, 5,650 nmi)
Service ceiling: 41,000 ft (12,497 m)
5. Boeing Business Jet 3 (BBJ3) – $70,000,000 to $97,000,000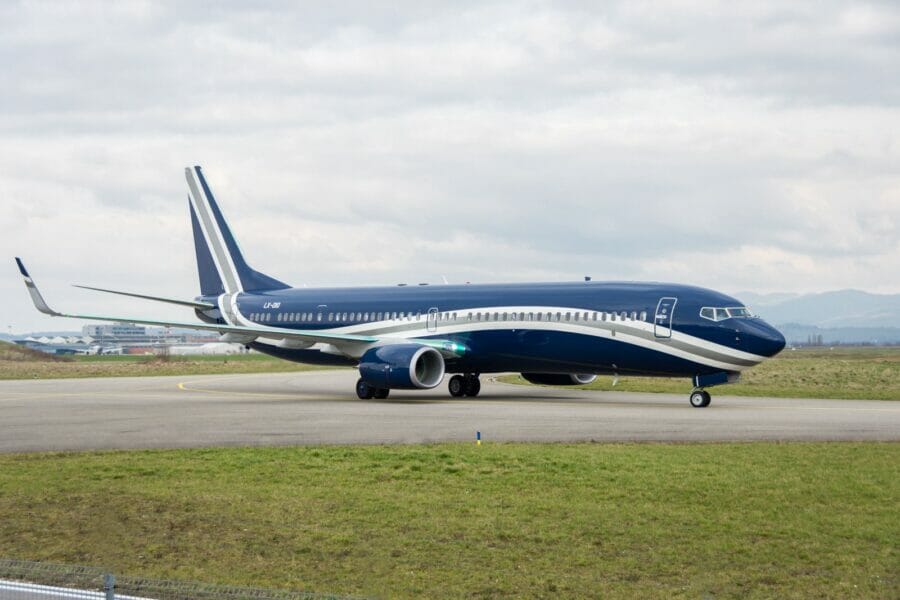 Price: $70 million – $97 million
Cost to operate per hour: $6,000
The Boeing Business Jet 3 (BBJ3) is what happens when aircraft designers allow luxury to run wild. This twin-engine heavy business jet is based on a converted Boeing 737-900 commercial airliner. It is an opulent shrine dedicated to the gods of excess for the super-wealthy individuals who desire to travel large distances.
The splendid and customizable cabin reeks of decadent extravagance worthy of a Bacchanalian party. The super large interior of the BBJ2 has a 1,004 ft2 (93m2) floor area with seating space for eight to fifty passengers in different configurations. Owners can design their cabin as they please (and they do). 
Standard cabin configurations include an executive office, private offices, conference rooms, private bedrooms, a master suite and bedroom including a bathroom, or a couple of bedrooms and bathrooms. Other amenities include wireless internet connectivity, several laboratories, a full-size galley, a crew rest area, and a built-in-airstair.
The BBJ3 is one of the world's most famous heavy business jets, with over a hundred and fifty units delivered globally. The aircraft owners include business people, governments, and corporations. 
Aircraft details:
Country of Production: United States
Manufacturer: Boeing Commercial Airplanes
Year of Introduction: 2018
Crew: 2
Passenger capacity: 8 to 50 
Maximum speed: 541 mph (870 kph, 470.11 kn)
Cabin Width × Height: 11.6 ft × 7.1 ft (3.5 m×2.16 m)
Engines: 2 × General Electric/ Snecma (CFMI) CFM56-7B27 engines, 27,300 lbs/ 121.4 thrusts each. 
Max payload: 16,420 kg (36,200 lb)
Range: 7,497 mi (12,066 km, 6,515 nmi)
Service ceiling: 41,000 ft (12,497 m)
The Most Expensive Private Jets Over $100 Million
Only a chosen few could afford to fly in the rarefied air of private jets costing over $100 million. These are not really private jets in a real sense, but they are reconfigured heavy business jets or widebody commercial airliners with acres of interior space and the range to circumnavigate the earth in a single flight. Their owners are among the wealthiest and most influential people on earth, with the resources to create flying palaces without regard for the costs or hourly operating expenses. 
Our list of the most expensive private jets over $100 million and their owners.
4. Boeing 767-33A/ER – $170,000,000
Price: $170,000,000
Owner: Roman Abramovich
Our first private jet over $100 million is a heavily modified twin-engine Boeing 767-33A/ER initially ordered by Hawaiian Airlines but canceled in 2004. Russian billionaire and Chelsea football club owner Roman Abramovich purchased the aircraft and spent bundles of cash on an extensive redesign and bespoke customizations, including a distinctive fuselage paint job that earned the plane the nickname "Bandit."
British yacht designer Andrew Winch gutted the Boeing 767 entire passenger cabin, replacing it with a custom interior wrapped in soft leather and polished wood surfaces with chestnut accents and gold-plated trim. A lavish lounge, two primary bedrooms, three guest bedrooms, a library, a 30-seat dining room, three bathrooms, a full-size galley, crew and staff rest areas, and a banquet hall for mid-air parties. 
The "Bandit" can carry thirty selected guests, including Chelsea football club members, to their games in a relaxed environment filled with the latest electronic gadgetry while being served sumptuous meals by skilled, world-class chefs. 
But this plane isn't all about luxury. Passengers can relax in comfort provided by an anti-missile system like the type found on Air Force One.
3. Boeing 747-8 VIP – $367,000,000
Price: $367,000,000
Notable owners: Joseph Lau, Kingdom of Brunei
Boeing's 747-8 VIP heavy business jet is the epitome of luxury and comfort in private intercontinental travel for the ultra-wealthy. Based on the 747-8 Intercontinental airliner, it provides owners with operational flexibility. And boasting more than 5,000 Sq ft of cabin space with an additional 881 Sq ft in the SkyLoft section between the primary and upper decks, owners can work and relax in surroundings that feel just like their personal home or office.
Boeing does not design the interior of the 747-8I VIP business jet. Instead, it delivers them to completion centers where highly skilled designers collaborate with the aircraft owners to create tailored exterior livery, luxury cabin interiors, and ornate finishings according to their choice and specifications. 
Although the details of each completed Boeing 747-8I VIP business jet are not made public. Common demands by owners include a large private office and boardroom for important meetings, exclusive lounges, master bedrooms, guest bedrooms, full-size showers, dining rooms and banquet halls for fancy mid-flight dinners and parties, a gym, vaulted ceilings, and spiral staircases, and high-definition screens and entertainment for guests.
2. Airbus A340-300 – $400,000,000
Price: $400,000,000
Owner: Alisher Usmanov
The Airbus A340-300 VIP private jet owned by Russian oligarch Alisher Usmanov is the country's biggest private jet and one of the most opulent on earth. The four-engine wide-body reconfigured airliner costs $238 million and the billionaire spent a whopping $162 million extra customizing the aircraft. Did we mention that he is also Russia's richest man?
The ultra-luxury Biz Jet is named after Usmanov's father, and it has the words "Bourkhan" stenciled on its fuselage. Although most of the aircraft goodies are secret, we understand that no expense was spared in turning the private jet into a haven of extravagant luxury and comfort in the true oligarch fashion. 
The usual luxurious seating and sleeping arrangements inside the lavish cabin including full-size king beds, soft leather chairs, guest bedrooms, full showers, giant high-definition screens, premium sound system, dining area, and a nightclub for sky-high raves. 
The plane which has a range of 8,326 miles (13,400 km) and could fly from Moscow to Rio de Janeiro in Brazil, is bigger than Putin's private jet and has reportedly upset a few people in mother Russia. But all is well because the Russian strongman seems approved of Usmanov's epic contribution to overindulgence. 
1. Boeing 747-400 – $500,000,000
Price: $500,000,000
Owner: Prince Al-Waleed bin Talal
What do you do for a private jet if you are a Saudi prince who also happens to be one of the world's wealthiest men? You buy a superjumbo jet, strip the interior and create a magnificent flying palace complete with a gilded throne. 
Prince Al-Waleed Talal Boeing 747 private jet is one of a kind aircraft with loads of space and luxury amenities fit for a king. It has two decks of living space outfitted with the softest leather furniture, dark brown polished wood, and plush carpeting throughout all aircraft sections.
The aircraft boasts of the usual luxury accouterments designed to keep passengers relaxed throughout their entire flight. These include the main and guest bedrooms with gold-trimmed fittings, an expansive dining room, a private lounge located in the front, and the throne room – the main lounge with soft leather sofas including one prominent gold-accented throne that rises to the ceiling.