Private jets are the ultimate flex of the wealthy. They offer a luxurious escape from the stress of commercial flying and also save time, allowing you to accomplish much more.
Wealthy athletes and sports people often use private jets for business and personal trips and owning a private aircraft allows you to manage your professional career with your family. Athletes with private jets are among the top 1 percent of the sports industry. They are fabulously wealthy from multi-million dollar contacts, corporate endorsements, and income from their personal brands.
Who are these people, and what type of private jets do they splurge their millions? Well, let us find out.
Soccer players who own private jets
It's no secret soccer players get paid well. Let's look at some of the private jets they own.
Cristiano Ronaldo: Gulfstream G650 ($65 million)
Cristiano Ronaldo (CR-7) is one of the most famous figures on the planet, thanks to a highly successful soccer career with Manchester United, Juventus FC, and Real Madrid. The soccer player, reportedly worth $500 million, has several expensive toys to keep him happy. And the most expensive of these is his Gulfstream G650 business jet, which he bought for $65 million. The ultra-long-range private plane can fly non-stop from London to Tokyo at a top speed of 691 mph. It seats eighteen passengers with a sleeping space of ten. Cristiano Ronaldo's G650 is personalized with his initials and jersey number. Cristiano Ronaldo also has a second plane, a Gulfstream G200, which he put up for sale this July.
Lionel Messi: Gulfstream V ($45 million)
Many fans consider Lionel Messi the greatest player of all time, and we can hardly doubt it with an unprecedented Ballon d'Or award. The Argentine-born star, who plays for the French club PSV, is reportedly worth around $400 million and has a taste for expensive private jets. His latest toy is a Gulfstream V private jet with a 6,835-mile range, enough for vacation trips to Antigua and Ibiza. The personalized private jet has Messi's Barcelona FC jersey number on its tail, and he has the names of his kids and parents inscribed on the staircase. Messi's Gulfstream V private jet has a modular design that can be configured to seat sixteen people or create bed space for eight. Messi and his guests can take showers, and there is a galley where the flight crew can conjure sumptuous meals and tasty snacks.
Zlatan Ibrahimović: Cessna Citation Longitude ($26 million) 
Zlatan Ibrahimović is one of the most accomplished soccer players in the sport's history. His senior professional career has spanned over 20 years across nine clubs in Europe and North America. Ibrahimović, worth an estimated $190 million, purchased a Cessna Citation Longitude for his personal use a while back. The private jet has a range of 4,000 miles, can seat twelve people, and is furnished with luxury amenities designed to keep Ibrahimović, his friends, and his family in comfort.
Neymar da Silva Santos Júnior: Cessna Citation Sovereign 680 ($22 million)
The soccer prodigy and whizzkid who made his professional debut at seventeen is one of the wealthiest athletes in the world with a net worth of $200 million. So, it is fitting that he should splurge on a luxury private jet to convey himself and his acquaintances in style. His Cessna Citation Sovereign is a fast jet with a range of 3,277 miles at a cruising speed of 553 km/h. Needless to say, the jet has all the luxury features and amenities designed to keep its occupants comfortable during trips.
Basketball stars who own private jets
Michael Jordan: Gulfstream G550 ($61 million)
Micheal Jordan is probably the greatest basketball player of all time and the first sportsman to reach the billion fortune mark, thanks to prudent investments and sales of his Jordan Sneakers. To make life after retirement easier, Jordan purchased a Gulfstream G550 private jet, spending millions of dollars redesigning the fifteen-seat aircraft to his taste. Jordan added several amenities, including a bar, a cigar station, and a premium entertainment system. Some of the personal touches The aircraft's exterior includes a livery matching the print style of his Nike Air Jordan basketball sneakers and a unique Air Jordan Jumpman logo on the tail.
Tracy McGrady: Dassault Falcon 2000 ($19 million)
Basketball hall of famer Tracy McGrady needs little introduction to fans of the sport. The sixteen-season NBA veteran has earned over $160 million in salary playing for several top teams in the NBA and several million more in endorsement contracts. After developing a phobia for commercial flying after the 9/11 attacks, he opted for a luxury private jet. McGrady's Falcon 2000 private jet is a fifteen-passenger private jet with a 3,740-mile range. The aircraft had a personalized number, T1-MAC, and it was designed to suit his family and business needs. McGrady claims his kids love the private jet and that it made much financial sense for him to shell out that much money for a private jet.
Magic Johnson: Gulfstream III ($32 million MSRP)
NBA great Magic Johnson is one of the most famous athletes on the planet and one of the richest, with a fortune of over $600 million. His private jet, an immaculate 1982 Gulfstream III with customized call sign N32MJ, is a toy that Magic uses for both personal and business trips. His jet frequents vacation spots in Italy and is frequently seen in Los Angeles, the home city of the Lakers and Dodgers basketball teams, where he owns a stake. Magic Johnson's Gulfstream currently sports a unique Dodgers/Lakers livery after the teams won World Championships in 2020.
LeBron James: Gulfstream G280 ($23 million)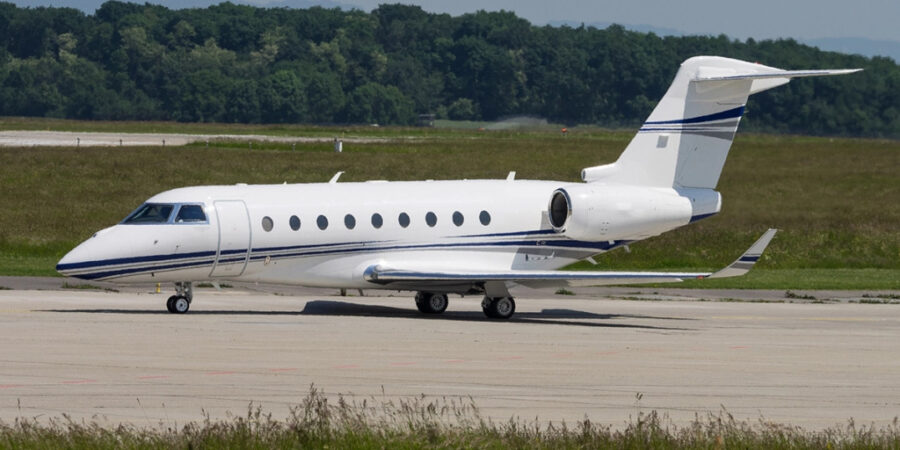 "King James" is a phenomenal basketball player who also ranks among the elite group of super wealthy athletes with over a billion-dollar fortune. And it is only fitting for him to own a luxury private jet for his personal and professional commitments. LeBron doesn't use his private jet to show off his wealth, unlike most athletes who use their private airplanes to symbolize their luxury lifestyles. Instead, "King James"  uses his Gulfstream to catch up on family moments, like when he flew on the private jet to watch his son's basketball game in between his professional games. LeBron also prevents his kids from using his private jet, preferring them to fly commercially and learn what it means to work hard to enjoy life's pleasures.
Racing drivers who own private jets
Max Verstappen: Dassault Falcon-900EX ($12 million)
Max Verstappen is a Belgian-Dutch F1 driver and current world champion. In addition, he is worth an estimated $250 million and reportedly loves fast and expensive toys, including a Falcon-900EX from the French company Dassault Aircraft. The luxury private jet seats twelve passengers and has a unique rear tri-engine arrangement. Verstappen loves the jet so much that he travels to all his Formula One races.
Fernando Alonso: Dassault Falcon-900C ($32 million MSRP)
Spanish-born F1 Driver and two-time world champion Fernando Alonso is among the most successful race drivers in racing history. The multi-millionaire sportsman's $250 million net worth comes from his salary as an F1 driver and several corporate endorsements. His private jet is a Dassault Falcon 900C, a trijet with a large cabin for relaxed intercontinental flights. Alonso's private jet has a full-size bathroom, toilet, and gallery.
Golfers who own private jets
With golf tournaments around the world, pro golfers need to be able to travel fast – and in style.
Tiger Woods: Gulfstream G550 ($53 million)
Tiger Woods is synonymous with the game of golf, and rightly so because of his influence and impact on the sport. Tiger has amassed lots of fortune from numerous championship winnings, corporate endorsements, and smart investments to become one of the three athletes in the billion-dollar wealth status. His Gulfstream G550 private jet is one of the most expensive private jets on the market. Its opulent cabin accommodates eighteen passengers in unparalleled luxury, with a range of over 8,000 miles. Tiger Woods Gulfstream has some remarkable features that include a bedroom with a walk-in closet, several bathrooms, and a separate dining area for Woods and his guests.
Phil Mickelson: Gulfstream V ($40 million)
It takes an athlete of exceptional ability to purchase a $40 million private jet. Phil Mickelson is a golfer who has helped reshape golf's image since its Tiger Woods heyday. Mickelson's private jet of choice is the Gulfstream V, a favorite among the wealthy and elite few who desire a fast and comfortable jet for vacation and business trips. The aircraft's spacious cabin is set up for luxury travel, it has room for fourteen passengers and a host of amenities which include internet access and a hi-tech multimedia system to help passengers pass the time during flights.
Ernie Els: Gulfstream IV ($40 million)
Fondly called "The Big Easy" by his numerous fans and friends, Ernie is a significant player in professional golf. Like most pro-golfers, the hulking South African national has a soft spot for Gulfstream private jets. Little wonder he purchased the Gulfstream IV for trips to PGA tours and for business and family use.
Learn more about the Gulfstream IV
Boxers who own private jets
Floyd Mayweather: Gulfstream G650 ($50 million)
Rolling around in a plush private jet worth $50 million certainly fits the image of someone who likes to refer to himself as "Money." The 45-year-old heavyweight champion is worth an estimated $650 million and has earned over $1.1 billion during the course of his fantastic career. His insane private jet, dubbed Air Mayweather, has a custom paint job with his name emblazoned across the fuselage and boasts every luxury and technology imaginable. He also owns a second private jet, Air Mayweather 2, to carry his entourage whenever he travels in his Gulfstream G650.