An aviation headset is one of the most important accessories and tools a pilot has in his cockpit. Hundreds of different headset models and brands are on the market today, but which one should you get? How much should you spend? And what about ANR vs. PNR?
Finding the best aviation headset for you can be confusing, especially given the many different brands out there, promoting their newest models with all the usual bells and whistles.
Let us help you make a well-thought-out decision with this definitive guide on how to choose the best aviation headset!
In a Hurry? See Our Top Picks
Just click on any image below to see price, ratings and reviews on Amazon.
We will start this guide with a list of some of the best aviation headsets you can buy today. In different sections, we will cover the different budgets for aviation headsets: under $200, under $500, over $500 and lastly the more expensive ones over $1000.
If you're interested in learning what to look for when buying a (new) aviation headset, make sure to read our buying guide below as well!
The Best Aviation Headsets Under $200 in 2021
1. Faro G2 PNR
The Faro G2 PNR is a headset we personally own and love. Faro's basic headset model is perfect for student pilots and those not willing to spend a fortune on a headset.
The Faro G2 PNR is Faro Aviation's least expensive model. With passive noise reduction up to 26dB, the G2 is quieter than most other PNR headsets we cover in this guide. The large soft cushion provides extra comfort for long cross-country flights and makes the headset feel light. The G2 also comes in different colors, has dual volume controls and an MP3/iPhone input. All in all, a great inexpensive starter headset for pilots or their passengers.
Bonus: You can get 10% off every Faro headset with coupon HANGARFLIGHTS!
2. Kore Aviation KA-1
The Kore Aviation KA-1 features dual volume controls, a flexible mic boom, great noise reduction and aux audio input for your smartphone. It's a great inexpensive headset for pilots, passengers, instructors, student pilots, flight schools and more.
The Best Aviation Headsets Under $500 in 2021
3. David Clark H10-13.4
David Clark is one of the oldest and most trusted brands when it comes to aviation headsets. The H10-13.4, its most popular model, has been around for many years and used all over the world in every different type of aircraft imaginable. Wherever you go, you will always see people wearing the trusty DC H10-13.4.
The super-soft, double foam head pad make the headset comfortable to wear, even on longer flights. It comes at a slightly higher price point than other comparable headsets and doesn't have the double volume controls or auxiliary audio input, but it is backed by David Clark's famous reputation for quality and service. When buying the H10-13.4, you're set for years of reliable service.
4. Faro G2 ANR
The Faro G2 ANR is the G2 PNR's bigger brother, with active noise reduction. For about $200 more, you get noise reduction up to 52dB for the quietest cockpit and most comfort.
If you are looking for an ANR headset but not willing to spend $500+, the G2 ANR gives you the most bang for your buck!
We wrote an in-depth review about the Faro G2 ANR aviation headset, you can check it out here:
Faro G2 ANR Review: An Affordable Quality ANR Aviation Headset ⭐⭐⭐⭐⭐
Discover our in-depth Faro G2 ANR review + A promo code for 10% off any Faro headset!
Bonus: You can get 10% off every Faro headset with coupon HANGARFLIGHTS!
5. Faro AIR
Most pilots put up with carrying a large heavy headset on their head for hours and hours. The Faro Air changes this.
With its 28 grams, the Faro Air is the lightest and the only in-ear headset in this list. Its noise reduction of up to 50dB makes the Faro Air also as quiet as most ANR headsets, which is great for pilots looking for an ANR headset but not willing or able to spend too much.
We wrote an in-depth review about the Faro Air in-ear aviation headset, you can check it out here:
Faro Air Review: An Excellent In-ear Aviation Headset ⭐⭐⭐⭐⭐
Our in-depth Faro Air review - an excellent in-ear aviation headset. Plus, a 10% discount!
Bonus: You can get 10% off every Faro headset with coupon HANGARFLIGHTS!
The Best Aviation Headsets Over $500 in 2021
1. Lightspeed Sierra ANR
The Lightspeed Sierra is a great choice for budget-conscious pilots, students, and passengers. It offers high-end performance and features – including outstanding noise cancellation, full Bluetooth integration and compatibility with FlightLink, Lightspeed's in-cockpit recording app. It's a great place to start into the world of ANR headsets.
2. Faro G3 ANR
Weighing only 255 grams, the Faro G3 ANR is the lightest on-ear headset in this list. Because the G3 is the first aviation headset out of Carbon Fiber, it weighs nearly half of a typical aviation headset.
The G3 has everything you want in a headset; it's an affordable ANR headset equipped with Bluetooth, MP3 audio input, ultra-comfortable ear cushions and it comes with a headset bag and audio cable.
Bonus: You can get 10% off every Faro headset with coupon HANGARFLIGHTS!
3. David Clark DC Pro-X2
The Pro-X2 is David Clark's latest aviation headset model. Based on the brand's previous best-seller models, their new headset offers best-in-class Hybrid electronic noise cancellation and Bluetooth wireless technology in a rugged, yet feather-light magnesium alloy suspension. With its weight of just 215g, the DC Pro-X2 is also the lightest over-ear headset on this list.
4. Lightspeed Zulu 3
The Zulu 3, Lightspeed's most premium headset. This new model has new contoured ear seals that reduce pressure, new cables that are more flexible and durable and the same ANR technology other models of the brand have. Additional features include Lightspeed's Auto Shutoff and ComPriority.
We often get asked about the differences between the LightSpeed Zulu 3 and the Bose A20/LightSpeed Sierra, as they are all very popular and great options.
So we have recently written 2 separate guides about the Lightspeed Zulu 3 vs. Bose A20 and the Lightspeed Zulu 3 vs Lightspeed Sierra!
5. Bose A20 ANR with Bluetooth
With its price point of just over $1k, the Bose A20 Bluetooth aviation headset is about the most expensive on this list. If you have ever used Bose headphones or other audio systems, you know what superior sound quality the company's speakers can produce. The A20 aviation headset is engineered to be more comfortable and provide more noise reduction than any headset Bose has ever made, while still delivering the clear audio you expect from Bose.
The A20 is one of the most comfortable headsets, if not the most comfortable one, we have used. The soft leather ear cushions and the comfortable fit of the headband make this headset very comfortable, especially on longer flights.
At this price point, you expect the best. The Bose A20 does a great job delivering just that.
Not entirely convinced yet? In another guide, we listed 10 reasons why you should purchase a Bose A20, just like we did!
6. Bose ProFlight Series 2 Aviation Headset
The Bose Proflight Aviation Headset is the smallest, lightest, most comfortable headset from Bose. Lightweight, in-ear active noise cancellation for long-term comfort over extended flights, with many new features designed specifically for airline and corporate aircraft flight decks.
Bose frequently received the question "Will this headset work in my GA aircraft?" – Bose: "The ProFlight is designed and best suited for quiet to moderate noise levels in flight decks of pressurized turbine-powered aircraft. […] The ProFlight is not recommended for use in single or multi-engine piston aircraft. If you fly that type of plane, the Bose A20 Aviation headset is still your best option."
Not quite sure whether you should go with the Bose A20 or Bose ProFlight Series 2?
Check out our comparison article comparing both Bose aviation headsets in more detail:
Bose A20 vs Bose ProFlight Series 2: Which Aviation Headset is Better in 2021?
Bose A20 vs Bose ProFlight Series 2, which aviation headset should you buy in 2021? We help you decide with this handy guide!
The Best Aviation Headset Accessories in 2021
Most new aviation headsets come with accessories like a headset bag, other microphone muffs, ear seals or other items and replacements. The headset bag, for example, can be a very good impromptu flight bag to store some charts and other items you need.
Other useful accessories can include adapters for smartphones or intercoms, flashlights to mount on your headset when flying at night, more comfortable ear seals and headbands, handheld transceiver adapters, microphone windscreens, plugs and jacks, and more.
Make sure to check which accessories could be useful when purchasing a headset.
Tip: if you own a Bose A20 Aviation Headset, you might find yourself struggling with the headset module and cables hanging loose in the cockpit. There is a great little product that holds the module so you can mount it somewhere fixed in an easily accessible location and maintain a clean, safe, organized cockpit.
Keep your $1000 headset controls off the floor and securely clip your headset control with this handy gadget.
Why do You Need an Aviation Headset?
An aviation headset is easily one of the most important purchases you make as a pilot, apart from an aircraft of course. Your headset will be your tool to communicate with others inside and outside of the aircraft. Not only will it help you communicate, it will also play an even bigger role: protecting your hearing.
Some theory to illustrate why this is important:
Our human hearing system is sensitive to sound frequencies between 20 Hz and 20,000 Hz and amplifies the sound between 2,000 and 5,000 Hz, since that's where our human voice is situated. While sound frequencies are measured in hertz (Hz), the volume or intensity of sound is expressed in decibels (dB). A quiet room is around 40dB and a normal conversation around 50-80dB. Our hearing is sensitive to these so-called sound pressure levels (SPL), but it's also very vulnerable to sounds with higher intensity, such as a rock concert or, more importantly in our case, airplane engines (120-130dB).
When you are exposed to sounds of 90dB and more, you risk damaging your inner ear, resulting in temporary or worse, permanent hearing loss.
Pilots are exposed to high volumes, and usually in low frequencies, often for long periods at a time. Hearing loss can and, unfortunately, will occur if you're not protecting your ears properly. The good news is, you can protect them! The key to this is having a quality aviation headset that does a good job handling and reducing these potentially dangerous noises.
Some more interesting reading material about the risk of loud noise and the importance of hearing protections can be found in this FAA safety brochure.
That's why having a decent aviation headset is crucial, not only for safety when flying, but also to protect your own ears. Since hearing loss is irreversible, prevention is always better than cure. Exactly the reason why we decided to write this comprehensive guide with everything you need to know about purchasing the best aviation headset for your needs.
Types of Aviation Headsets
First of all, it's important to distinguish a few different types of headsets. The main differences are the noise reduction technology the headset uses and the general look of the headsets.
In-ear vs on-ear
Just like normal headphones people use in their everyday life, aviation headsets come in two main categories. On one hand, you have the on-ear headsets, these are the most commonly used ones. On-ear headsets also offer the biggest choice of brands and models on the market. Well-known examples of on-ear headset brands are David Clark, Bose, Sennheiser and Lightspeed.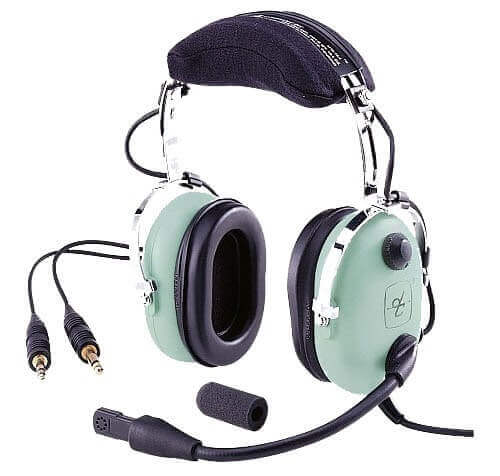 The David Clark H10-13.4 on-ear aviation headset
The second category cover the so-called in-ear aviation headsets. These headsets use little speaker plugs you insert in your ear, just like the headphones of your smartphone. These headsets are a little less common, but offer the great advantage that they are usually more comfortable and weigh a lot less (and don't cause bad hair days!). However, the way they feel and sit on your head mostly depends on your ears. While on-ear headsets fit almost everyone, in-ear headsets can feel different from person to person. Good examples of in-ear headsets are the Faro AIR and Clarity Aloft headsets (more information about those headsets can be found later in this guide).

The Faro Air in-ear aviation headset (Get 10% off with code HANGARFLIGHTS)
PNR vs ANR & DNR
The second category of headsets is based on their ability to reduce or cancel noise and the noise reduction technology they use. We'll discuss passive noise reduction (PNR), active noise reduction (ANR) and dynamic noise reduction (DNR) headsets.
Passive noise reduction (PNR)
Passive noise reduction headsets are usually the least expensive ones. They have noise suppressing foam that fills the earcup cavity and passively reduces the noise by sealing off sounds that come from outside the headset. For proper noise reduction, PNR headsets should fit firmly around the side of your head.
PNR headsets can range anywhere from $60 to $600.
Active noise reduction (ANR) and Dynamic noise reduction (DNR)
ANR headsets actively reduce and cancel the noise by using electronics inside the headset to remove or suppress unwanted aircraft noise. These headsets are usually battery-powered and use a filter to separate the wanted signal from the unwanted signals, usually below 300Hz. The separated noise is inverted and mixed with the original signal, which results in the noise and inverted noise-canceling each other. ANR headsets use a little microphone inside the headset to 'read' incoming noise and generate the anti-noise signal.
Active noise reduction headsets can usually obtain a noise reduction of 10-20dB, which means at 20dB, the noise is only 1/100th of the original level. Since you don't want to block wanted signals, like alerts or a sputtering engine, ANR headsets only block frequencies below 300Hz. ANR headsets are in most cases more expensive than their passive noise reduction counterparts.
There is also another kind of active noise canceling headsets, the dynamic noise reduction (DNR) headsets. These are more expensive than ANR headsets, but are lighter and provide an extra level of noise-canceling by using digital electronic techniques to remove noise components from the incoming headphone signal. PNR headsets achieve this by digitizing signals in a series of numerical values, which are then processed to look for repetitive noise signals and remove noise components.
DNR headsets suppress noise by 15-25dB and noise signals of up to 3,500Hz can be detected and canceled. They can range in price from $250 up to $1500.
Microphones
It's not only important to look at the types of headphones and their ability to cancel incoming noise, we'll also need to take into account the outgoing sounds from the microphone.
If the microphone of your headset does not have any suppression against noise pick-up, this noise can enter the audio system of the intercom in your airplane, or be transmitted over the radio to other aircraft and ATC, making your calls a lot less clear and understandable. You might have noticed a lot of microphones have a mic muff, or windscreen, to offer some suppression of cabin noise, but by itself, this is not enough to prevent all unwanted noise from entering your mic.
Like the earmuffs, microphones need a quality noise suppressing foam muff. In addition to this, a 'jacket' over the foam will increase its effectiveness. Always make sure to pay attention to the microphone when purchasing a headset.
Most modern aviation headsets have an electret microphone.
Things to Consider When Buying an Aviation Headset
When purchasing a headset, there are a few other things to consider than just the way they reduce noise.
Comfort
The first factor to consider is how comfortable the headset is. You will be wearing it for hours at a time, make sure they properly fit and feel comfortable. Ear cushions and the headband will have a big impact on the comfort, to make sure to try some different models and brands. Some headsets have the bad characteristic of starting to squeeze your head after wearing them for a while. Be sure to wear the headset for at least 10 minutes to really feel how they sit.
Bluetooth
A common option for modern headsets is Bluetooth capability. Lots of devices, like GPS systems and smartphones, can be connected to headphones via Bluetooth, eliminating the need for extra cables in the cockpit. Having Bluetooth functionality on your headset can be a big advantage and a good reason to pay a little extra.
Noise Reduction
We've already discussed the different types of noise reduction of headsets. Deciding whether to buy a PNR or ANR headset depends on a few different factors.
First of all, set a budget for yourself and buy accordingly. ANR headsets can cost significantly more than PNR, but if you have the budget for it, ANR could be the way to go.
Secondly, you'll need to think about how often you will use your headset. Are you going to use it only a few times a month, or will you be flying with it daily for hours at a time? If you're going to use your headset daily, you might find ANR headsets a better option since they will significantly reduce the noise you are exposed to.
Cable and plugs
Depending on the type of aircraft you're going to fly, another type of headset plugs are required. Helicopters, for example, use other connectors than fixed-wing GA (general aviation) airplanes, and manufacturer Airbus uses another connector, XLR, which is also used in professional audio recording.
Always make sure to check which connectors and cables you'll need and buy the correct one.
Weight
The weight of your headset can be another factor to take into account. PNR headsets are less expensive, but they are usually also heavier since the earcups contain noise reducing foam. Again, make sure to wear a few headsets to see which feels the most comfortable. Heavier doesn't necessarily mean less comfortable.
Price
We've already touched on the price point of different headsets and mentioned ANR headsets are more expensive than their PNR counterparts, with DNR headsets even more expensive.
Just set a budget for yourself and stick to it. If you can afford a more expensive one, it could be the right thing to do. When in doubt, the best advice is still to "buy the most headset you can afford".
Headset Buying Tips
Here are some additional tips that can help you decide on the best aviation headset for your needs:
Rule number one: you get what you pay for. Don't go cheap and buy a knock-off, how tempting that price tag might be, it may not hurt your wallet, but it can seriously impact your safety and ears.
Always try to test out the headset of your choice in flight, to make sure you've made the right decision. Often it's after flying with it the first few times that you can really experience the way it feels and functions. Don't be afraid to use the return service after purchasing a headset that doesn't fit as well as you hoped.
If the headset of your choice does not have the most comfortable ear seals or headband, you can always purchase some aftermarket ones that provide significantly more comfort.
Consider purchasing second-hand brand-name headsets. You can often find thousand-dollar headsets for a quarter of the price and pilots usually take very good care of their possessions.
If you decide to buy an ANR headset, consider the bulky battery pack and think about how it feels hanging on your neck or where you will put it.
There are different types of microphones (Dynamic, Amplified Dynamic and Electret), make sure to check which ones work best with your radio!
Always remember you will wear the headset a lot. Cheap in the short term can become expensive (on your ears and comfort) in the long term.
Conclusion
In general, you get what you pay for. Quality headsets can last for a decade, so it will be an investment that will pay off. If you're still not sure which one you should buy, ask a few pilot friends or people at your airfield if you can borrow theirs for a test flight. Always be aware of cheap headsets, they can be attractive but will do a very poor job protecting your ears.
When in doubt, the best advice is still to "buy the most headset you can afford".