I recently received my brand new Faro Air in-ear headset. Here's our in-depth Faro Air review!
Spoiler alert: it's a great in-ear aviation headset!
Introduction
Today I received my brand new Faro Air in-ear headset. I've been a proud owner of a Faro G2 ANR headset for the past two years, which I mainly used during my PPL flight training. Recently, I've upgraded to the Bose A20, but I still use the Faro G2 quite often when flying with passengers or as my go-to backup headset.
If you're interested in reading more about the Faro G2 ANR, I have written an extensive review about it here.
Until now, I have always been using the standard over-ear aviation headsets, as most pilots do. There are only a few brands that offer in-ear aviation headsets, such as Clarity Aloft, UFQ, Faro and recently Bose.
I'm a big fan of the high-quality but very affordable pilot headsets Faro Aviation offers, so I decided to order their in-ear model, the Faro Air, to give it a try.
To my surprise, I could not find any thorough review yet of this headset online before purchasing. The only video where you can see the Faro Air in action is one by Steveo1Kinevo, you can view it here. So let's create our own in-depth Faro Air review!
About Faro Aviation
First, let's talk a little bit about Faro Aviation. The company was founded in 1999 by Kevin Faro, who was at that time dissatisfied with the headsets on the market.
"It seemed as soon as someone put the word "aviation" next to a product, even a flashlight, all of a sudden, the price quadrupled."
That didn't make any sense to him, and with the help of a group of pilot-engineers, they designed a high-performance headset for their own use. They found pilots asking about them and after a test flight, they wanted to get their own. Its success led them to form Faro Aviation to develop models available to the entire aviation community.
About the Faro Air in-ear Aviation Headset
The Faro Air is Faro Aviation's first and only in-ear headset model.
Here are a few of the specs:
Lightweight, only 1 oz.
Not limited to jets. Use in any GA aircraft or helicopter.
Three-Year Warranty
Provides up to 50db of Noise Reduction
Music Input
Dual Volume Control
Replaceable foam earplugs
Now, let's dive in and see what the headset actually looks like!
If you want to learn more about the specs of this headset and some additional info, the Faro Air user guide can be downloaded here.
Faro Air Review: Unboxing
I received my new Faro Air in a sturdy cardboard box, as it was shipped from Las Vegas to my home in Belgium by UPS. After opening the box, this is what the Faro Air headset packaging looked like:
The headset arrived in a small, elegant box. The box is way more compact and lighter than the one my Faro G2 ANR headset came in. But then again, the headset weighs about 90% less. Opening the box, you find a few different packages and documents.
The Comply foam ear tips are the first package you can see. 12 quality earplugs in 3 different sizes; small, medium and large. Faro recommends switching the earplugs every time a new person uses the headset or whenever their form starts to permanently change and they don't provide sufficient noise cancellation anymore. Additional foam earplugs can be ordered through Faro's website or from other places selling these plugs.
The Faro Air headset has a 3.5mm aux audio input to connect your phone or iPad to your headset. Every headset comes with an AUX cable, which is very convenient! The quality of the cable certainly looks good.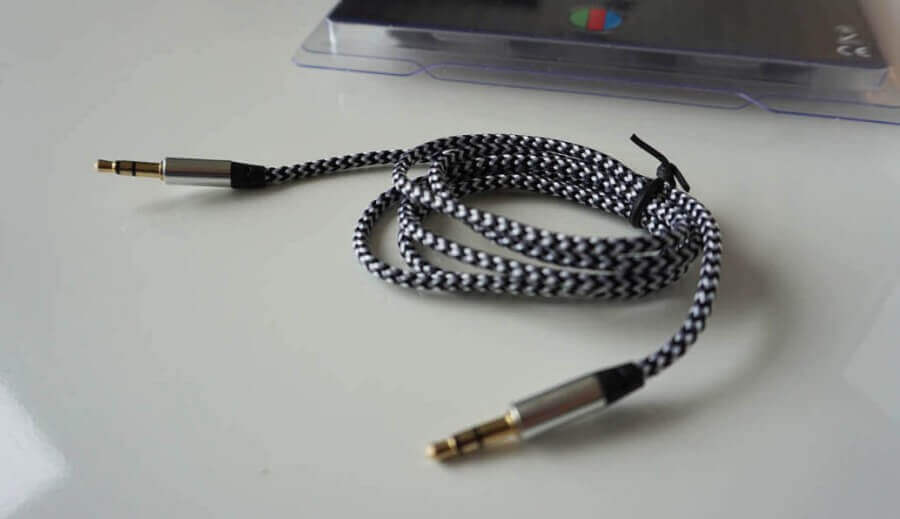 Another small package includes extra larger ear cushions for more comfort. You can easily replace the standard smaller ones with these.
The headset itself is in another plastic package. You instantly notice how light and compact the headset is. It might give you the impression of being a little on the cheap side in the plastic bag, and I admit, they could have done a little better job presenting the headset. But once unpacked, it looks great (more below).
A nice infographics cart explains how to adjust the metal headband and ear loops. It looks very easy, but I still haven't really figured out how to make the headset fit perfectly. Once I get the chance to test it in the air, I'll probably get a better understanding!
Another document you will find in the box is the nicely illustrated user manual.
To summarize, inside the box you'll find:
12 foam Comply ear tips
User manual
Instruction card for adjusting the headset
The Faro Air headset
AUX audio cable
Set of extra ear cushions
As this is a passive noise reduction (PNR) headset, you will not need any batteries to get started.
Faro Air Review: First Impressions
The headset itself looks very well-built. It's extremely light, even lighter than I expected.
The Faro Air is made out of a metal headband that goes behind your head, two ear loops that need to be fitted over your ear, a flexible mic boom and two earplugs. On the pictures, I haven't yet mounted the foam earplugs, which can be screwed on easily.
It does not come with any headset bag or case. Neither do the other Faro headsets, although the Faro G2 comes with a fluffy yellow bag to protect the headset. I wish Faro would have included a similar, smaller, bag with the Faro Air. The headset looks sturdy and well-built, but I don't like to put it unprotected in my bag or car.
It certainly looks comfortable, although I'm not really sure how well it will fit and whether it will stay on my head while flying. But we'll figure that out later when taking it up.
Although it's a very lightweight headset, the quality looks great. However, I haven't used the headset yet and I'm eager to find out how it does after multiple uses.
The control module offers the AUX audio input, dual volume controls and a mono/stereo switch for stereo radios. If your radio is just mono as most common models, you will only hear through one ear if you leave the switch on stereo instead of mono.
The headset also comes with two clothing clips attached to the headset cable. According to the manual, it's recommended to attach the cable to your shirt or jacket, to make sure the headset stays on your head nicely. If you don't, the weight of the cable and module (which is heavier than the headset itself) could pull your headset down.
Faro Air Review: In-Flight
Before testing out the Faro Air headset in the air, I spent some time at home trying it on and adjusting it to fit my head. It took a little trying to find the right ear tips to use (they come in multiple sizes) and find the right technique to adjust the headband to fit tight around my head.
The headset comes with a few clothing clips that can help to attach your headset cable to your clothes, as explained above.
Speaking of the headset cable.. this thing is long! According to the user guide (I haven't measured it myself), the cable is 150cm long.
When I first tried on the headset I was a little worried, as it didn't seem to stay in place very well when moving. Especially the microphone moved around a lot when turning or tilting my head. I was able to fix this quite well with the clothing clips. (tip: when attaching the cable to your clothes, make sure there is some slack on the cable, otherwise the cable might prevent you from turning your head all the way around, which is necessary for a good look-out in the cockpit of course!).
Once I got in the plane and put the headset on my head, I noticed it stayed on a lot better than when I tried it at home. I realized that at home, I was trying the headset while standing in front of the mirror and walking around. When seated inside the cockpit, it stays on remarkably well, even without clothing clips!
I have to add: when finally being able to test the headset, we were amidst the COVID-19 pandemic. I was flying with a few friends, so wearing a face mask. I'm not quite sure whether the mask (at least the elastics around my ears) helped make the headset stay on better or not. When I have had a chance to fly with the headset without a face mask, I will confirm here!
In the cockpit, you again notice how long this cable really is. It's always convenient to have a cable that's a little longer, especially when you want to attach it to your clothes. But I did have to take a minute to organize the cable so it wouldn't bother me in flight or get in the way of anything critical.
When testing the headset, I was flying a Grumman AA5A Cheetah. I'm used to flying GA aircraft with my Active Noise Reduction Bose A20, so I had to get used to a little more noise. But still, it's very doable, even at high RPMs! I can imagine the Faro Air working even better in less noisy cockpit environments such as in jets.
What I liked the most was the in-ear aspect of the headset. I'm used to flying over-ear headset for many hours at a time (when towing gliders on good days, I often fly 3-4 hours, with little breaks in between). It was a great feeling to have nothing on your head, and being able to move your head freely with no additional pressure or weight on your ears or head. It was just a 45-minute flight, but I can imagine this advantage really shows itself on longer flights!
All in all, I was very impressed with the headset in flight! I am probably going to use it less when towing gliders, as it takes a few minutes to fit the headset on nicely (when towing we often get out of the plane between tows and have to be ready quickly for the next one), but on personal flights, especially longer ones, the Faro Air will be my go-to headset!
Faro Air Review: Conclusion
The Faro Air is a great headset if you prefer earplugs over a heaver over-ear headset. It's extremely lightweight, comfortable on your head and offers auxiliary audio input as well as dual audio controls. The headset is well-built and compact enough to fit in even the tiniest flight bag.
If you're looking for an affordable quality headset under $400 with no more "headset hair" days, the Faro Air in-ear aviation headset is the way to go!
Promo – Get 10% off
If you're interested in buying the Faro Air, or any of Faro Aviation's other headsets, we have a great deal for you! If you use coupon code HANGARFLIGHTS at checkout, you will get a 10% discount on any aviation headset or accessory on Faro's website 🙂
$350.99 $389.99
10% off with coupon HANGARFLIGHTS
Buy now with 10% off
If you click this link and make a purchase, we may earn a commission at no additional cost to you.
Want to learn more about picking the right aviation headset?
Interested in our review of another in-ear aviation headset? Check out our recent review of the AXIS: