Axis In-ear Aviation Headset Review
28 February 2023 | Updated on December 03, 2023 | 0 comments
Aviation headsets are an essential piece of equipment for pilots, providing clear audio and reliable communication. In-ear aviation headsets provide the same functionality as traditional aviation headphones but in a lighter, more compact form and with better comfort. No more bad hair days!
The friendly team at AXIS Headsets were kind enough to send us their lightweight in-ear aviation headset to review. Let's take a look at what we found!
Full disclosure: we received the headset in return for an extensive honest review. However, all opinions are our own, and this review is unbiased.
About Axis
AXIS headset is a product of US-based Laminar Concepts, LLC – which has been selling aviation electronics since 2016, starting with their flitecordr audio cable used by thousands of pilots around the globe.
The AXIS headset was designed by two aerospace engineers passionate about aviation and product development. As pilots themselves with airline and GA experience, they understand the importance of clear communication and hearing protection for safe flight operations, but identified shortcomings in the comfort, flexibility, and build quality of the existing in-ear headsets on the market. After years of development and extensive flight testing by a range of pilots, they started offering an improved in-ear headset that provides exceptional value – the AXIS in-ear aviation headset, assembled and tested in the United States.
Axis has two simple principles guiding their company: quality and customer service. They take great care to ensure that each design detail and each product sent to customers meets our high standards of quality.
At least this is what their website says 🙂
AXIS In-ear Aviation Headset
The AXIS In-ear Aviation Headset is one of the lightest aviation headsets on the market, weighing in at just 1 ounce (28 grams) and boasting an average noise reduction rating (NRR) of 29 decibels.
The most important factor in choosing an aviation headset is its ability to protect your hearing and facilitate clear communications.
The AXIS does not use active noise reduction (ANR). Instead, it provides superb noise reduction through simple ear plugs (or custom ear molds). This is the same fail-proof technology that has been used in other noise-sensitive professions for decades – no batteries or uncomfortable head clamping involved. Traditional over-ear headsets, like the David Clark H13.4, provide around 23 dB of noise reduction, while the Axis has an NRR of 29 – a 6dB difference that makes a huge difference after long hours in the cockpit.
Besides the standard version, Axis also offers a long-mic version of the headset. This long-mic version gives you more options for how to wear your headset: by attaching two included snap-on side pads, the long-mic AXIS can be worn on top of your head, leaving your ears completely pressure-free. It may also be worn in the standard way (on top of the ears), and is a good option for those with larger head sizes to ensure optimal microphone placement.
Unboxing the AXIS headset
Patiently waiting for the headset to arrive, I was surprised by how quickly it arrived in Belgium – which is a long way from Cranston, USA. When it arrived, I found a nicely-designed package very thoughtfully put together, which made me feel like I was getting something special even before I opened it!


Inside, we found:
The Axis Headset
3 sizes of Comfly ear tips
Compact custom-designed storage case
A mic foam
AUX cable
Quick reference card
Perhaps good to mention: my headset came me the Ear Tip Variety Pack, which contains 6 pairs of different ear tips compatible with the headset. By default, the headset arrives with 3 sizes of standard pillow-soft Comfly ear tips – you can buy the Ear Tip Variety Pack separately on their website for $20.






The small extra plastic bags you can see in the images are snap-on side pads that come with the long-mic version, which is the one I received, as well as some other smaller cushions, tubes and couplers.
The first look
Opening the cardboard box reveals a first great plus point of this headset: the custom-designed case. This is something I regret my other in-ear aviation headset (the Faro Air) didn't come with. As an in-ear headset is usually a little bit less sturdy than conventional over-ear headsets, having a carrying case helps protect the headset when taking it with me in my flight bag.
But of course, I'm not here to just talk about how great the case is. Let's take a look at the headset itself.
First of all, the AXIS headset looks great! It's sleek, modern and you can immediately notice it was very thoughtfully put together. The headset consists of a frame that sits around (or on) your head, two capsules that house the sound drivers, acoustic tubes with eartips, a noise-canceling microphone with mic foam, and a kevlar-reinforced cable.
You can see that every detail of the AXIS headset was designed to look and feel good, and it looks quite different than the Faro Air, which I have tried and reviewed before.
The Faro Air has a frame that sits behind your head, with brackets placed over the ears to hold the headset in place. The AXIS is held in place on the head in a very different way, with a flexible frame that in itself rests on your ears and goes behind or over the head, depending on your personal preference. It is in fact a much simpler, yet efficient, comfortable and flexible design.
Because of these different design choices, the AXIS headset can be worn with the microphone either on the left or right side, something that is not possible with the Faro due to its different design. This is especially helpful when you frequently need to switch between the left or right seat – ideal for check airmen and flight instructors.
The minimalistic design with flexible frame also has some other interesting advantages:
Because of the flat design, the headset can be stored completely flat;
The flexible frame makes it more comfortable to wear sunglasses over your ears;
Unlike the Faro Air and some other competitor headsets, the AXIS sensitive speaker electronics are safely located in nylon capsules on the frame instead of in the ear tips themselves, reducing the risk of damage from moisture/wax, or from tugging on thin wires.
When it comes to quality, the AXIS was put together with carefully selected high-quality electronic and acoustical components (premium Knowles™ microphone, drivers, and dampers) for high-quality, reliable audio.
Furthermore, there are some other interesting facts about this headset and its features:
The control module comes with an adjustable mic gain, which enables you to set the gain most appropriate for the aircraft you fly;
Besides AUX input – which nowadays you find on most modern headsets – the AXIS also provides you with an AUX output, so you can connect your smartphone to make phone calls;
Using the Long Mic version, it is also possible to wear the headset around your neck when you don't need to have the mic in front of your mouth (as a passenger, for example);
If you have sensitive ears, the headset comes with a pair of cushions that can be attached to the frame over the ears to improve comfort.
In-ear headsets are extremely light, and you may get the impression that it's a delicate piece of gear that may break easily. While my first impressions of the headset are great, and it looks very sturdy, the guys at AXIS went above and beyond the actually demonstrate just how durable the headset is:
AXIS In-Ear Pilot Headset vs. Truck
In-Flight review of the Axis Aviation Headset
After a few weeks of bad weather, finally got the chance to take to the skies with my axis headset. The first thing I noticed was how comfortable it felt; even after more than an hour of flying, my ears never felt sore and there were no pressure points that could cause discomfort. The headset also provided great sound quality; conversations were clear, and I could hear instructions from ATC.
As a sailplane tow pilot, I look around A LOT when flying, in order to see other gliders and aircraft which are usually in pretty close proximity when releasing gliders in or near thermals. Flying with in-ear headsets in the past often meant constantly adjusting the headset and microphone, or trying to get it to stay put using a cable clothing clip. However, the AXIS, with its flexible frame design, was able to stay in place without ever having to adjust it. It fits nicely on my head and never felt too loose or too tight; it fit just right!
I was also impressed by how quiet it is in flight – even when flying an older quite noisy Robin DR400. During different consecutive flights, I tested out all the different ear tips that I received, to compare the level of comfort and noise reduction each of them offered.
As mentioned earlier, we received the separate Ear Tip Variety Pack, with 6 pairs of different ear tips. However, after testing out some different ear tips, I found the default included pillow-soft Comfly ear tips the most comfortable and best noise-reducing ones. I do need to test them out a little more in terms of (music) sound quality and long-term comfort, but at the moment these seem to impress me the most.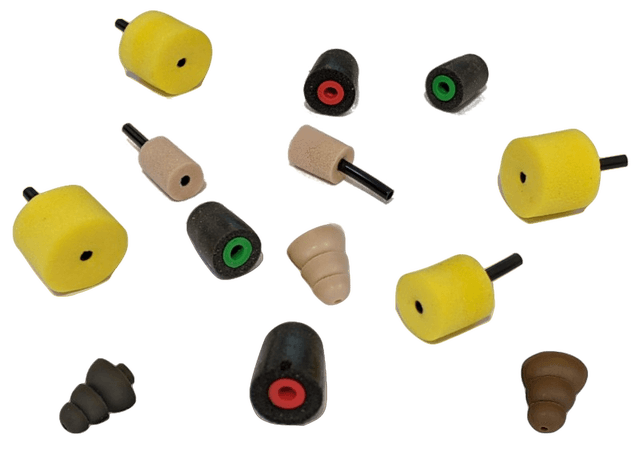 Just like the Faro Air, the AXIS has a long cable: 47 cm from the plugs to the volumne control box + 141 cm from the control box to the headset. I remember writing in my Faro Air review that it took some cable management to organize the cable in the cockpit, and that was even more the case with the AXIS – whose cable is about 40 cm longer. Luckily the included carrying case makes it really easy to keep the cord untangled when transporting the headset.
In fact, that very compact case is one of the things I really love about this headset – it's so easy to carry and the headset fits extremely well in the case, with extra room left for other small items like a passport, pens, AUX cable and other small gadgets. Comparing it to the headset bags that come with some other (well-known) headset brands, makes this obvious:
Is there something we didn't like about the headset? Well, after having only flown with it a few times, there really wasn't anything that disturbed us about it. We just thoroughly liked flying with it!
But if I did have to name at least one con of this headset, it would be that it isn't available as a Bluetooth option. I really like listening to music while flying solo (such as when towing gliders), or hearing the audio alerts from my navigation software Skydemon. The Axis headset does have an Aux audio input, but I much prefer using Bluetooth as it's wireless. Just for this reason, I do often find myself using one of my Bluetooth-equipped headsets such as the Bose A20.
Conclusion
Overall, I am thoroughly impressed with the AXIS Aviation Headset. It is comfortable to wear for extended periods of time, provides great sound quality and noise reduction, and comes in a very compact carrying case for easy transportation. Despite its lightweight design, it feels sturdy and well-built; I'm sure it will last me many, many hours of comfortable flying!
When comparing it to the Faro Air that we reviewed earlier, there are a few clear differences, which we already (briefly) mentioned throughout this guide.
At a price point of $475,00 (or $550,00 for the Long Mic version), the Axis is significantly more expensive than Faro Aviation's Air, which you can order online for $389,99 (standard GA plugs). I thoroughly like flying with both headsets, but I did find the AXIS more comfortable to wear, as well as easier and faster to put on my head and adjust. Since I spend a lot of my flying time towing gliders – jumping in and out of the tow plane as much as 15 times in a day – I tend to prefer the AXIS for the speed, convenience and comfort it offers, both when flying as well as when just carrying it around.
Finally to conclude this review, I want to thank the great AXIS team again, who were kind enough to send me one of their headset demo models to review.
If you want to learn more about the AXIS headset, you can check out all details here: https://axisheadset.com/product/axis-aviation-headset/
Our Faro Air review can be found here:
And for those looking for more information about buying an aviation headset, you check out our extensive Aviation Headset Buying Guide here: