Sunglasses are an important part of any pilot's gear. They help safeguard his/her most important sensory asset: vision. A quality pair of sunglasses is essential in the cockpit environment to optimize visual performance. In addition, sunglasses can provide some relief from the bright light that comes with flying.
But which are the best sunglasses for pilots? Here are our top recommendations for 2023, and things to keep in mind when buying sunglasses as a pilot this year.
In a Hurry? See Our Top Picks
Just click on any image below to see price, ratings and reviews on Amazon.
If you're interested in learning what to look for when buying pilot sunglasses, make sure to read our buying guide below as well!
The 7 Best Sunglasses for Pilots in 2023
Now, let's dive into our list of recommendations if you're looking for a (new) pair of sunglasses. In the list below, we've highlighted some of the best options on the market for pilots, based on factors like fit, lens type, style, and more.
1. Ray-Ban Aviator
The most iconic shape in the Ray-Ban portfolio featuring a teardrop shape, crystal lenses and metal frame. The Aviator was originally designed for US pilots in 1937 to shield their eyes from high-altitude glare. Now their iconic frames are a staple in your wardrobe.
The timeless icon embodies both style and practicality.
2. Serengeti Summit Drivers
The Serengeti Drivers lens is designed specifically designed for driving or flying. The drivers lens is a photochromic, single-gradient lens, darker at the top to block the sun's glare while lighter at the bottom to provide a clear view of the instrument panel. The driver is also NOT polarized. Polarized lenses can make it harder (even impossible) to read LCD screen-based instruments and often interfere with the view through polycarbonate or safety glass windshields such as those found in aircraft.
$97.85
Buy now on Amazon
If you click this link and make a purchase, we may earn a commission at no additional cost to you.
3. Serengeti Matera
Matera's lightweight metal frame is built for speed, yet balances like a feather on the bridge of your nose. All Serengeti lenses offer the latest in photochromic technology, which constantly lightens and darkens throughout the day to ensure you see every detail.
Serengeti's new Matera sunglasses model offers extreme comfort thanks to its adjustable nose-pads and rubber temple tips.
Buy now on Amazon
If you click this link and make a purchase, we may earn a commission at no additional cost to you.
4. Ray-Ban Wayfarer
The Wayfarer was introduced in 1952 and has been considered a Ray-Ban icon ever since. This style has been a favorite of iconic musicians and celebrities throughout the decades. The Original Wayfarer features an acetate squared frame with a tilted lens.
$163.00
Buy now on Amazon
If you click this link and make a purchase, we may earn a commission at no additional cost to you.
5. Randolph Aviator
Originally built for the U.S. Military, Randolph flagship Aviator surpasses rigid military-spec standards. Standard issue since 1982, these are battle-tested and suitable for the most rigorous and demanding use. Worn by pilots, taste-makers, and those who demand the best.
$279.00
Buy now on Amazon
If you click this link and make a purchase, we may earn a commission at no additional cost to you.
6. Randolph Concorde Aviator
Named after the Concorde supersonic passenger airliner, which entered service in 1976 (four years after Randolph Engineering was founded), the Randolph Concorde is built to meet the same military standards as our classic Aviator. Featuring the iconic large teardrop shape worn by pilots during World War II, this style is loved for its fashion as well as for its sun protection.
$329.00
Buy now on Amazon
If you click this link and make a purchase, we may earn a commission at no additional cost to you.
7. Randolph Sportsman Aviator
Designed for the outdoor enthusiast, the Sportsman is an essential piece of equipment to bring on your adventures. Built to meet the same military standards as our classic Aviator, this extremely durable frame features the company's largest lenses, a sports sweat bar, and a timeless and distinguished style.
$309.00
Buy now on Amazon
If you click this link and make a purchase, we may earn a commission at no additional cost to you.
Why Quality Sunglasses are Important for a Pilot
Sunglasses reduce the effects of harsh sunlight, decrease eye fatigue, and protect ocular tissues from exposure to harmful solar radiation. Additionally, they protect the pilot's eyes from impact with objects (for example flying debris from a bird strike, sudden decompression, or aerobatic maneuvers). Sunglasses can also aid the dark adaptation process, which is delayed by prolonged exposure to bright sunlight.
It is clear sunglasses are important in the cockpit. Therefore, we decided to write this guide and help you make an informed decision when it comes to choosing the right sunglasses for your flying adventures.
What to Look for When Buying Aviation Sunglasses
Sunglasses are such an important part of safety in the air that the FAA has published some recommendations for buying sunglasses:
Sunglasses with lenses that incorporate 100% ultraviolet protection made of glass, plastic or polycarbonate materials. Glass and plastic lenses have superior optical qualities, while polycarbonate lenses are lighter and more impact resistant.
The tint chosen should be limited to those that optimize visual performance while minimizing color distortion. The best choice would be a neutral grey tint with 15-30% light transmittance. While the color does not directly determine light absorption, each tint will enhance certain properties and colors.
Polarized sunglasses are not recommended because they may interfere with glass cockpit displays. In addition, because they eliminate glare off of shiny objects they may reduce a pilot's ability to spot other aircraft.
Careful consideration when choosing appropriate sunglasses should be taken to make sure they can easily slip on and off under headsets, helmets and other headgear.
Photochromic glass lenses are not recommended because of the extended time it takes for them to remove the darkening when exposure to bright sunlight is removed. This is mainly a problem when flying into clouds or at nightfall.
Besides the above tips, we also have some suggestions of our own on what to look for when buying sunglasses for aviation.
Comfort
No matter how good the lens quality is, if your sunglasses don't fit comfortably then they won't be doing their job properly. When shopping for new sunglasses make sure that you try them on before purchasing them – this will ensure that they fit snugly without being too tight or causing any discomfort when wearing them for long periods of time.
Additionally, you can look for frames with adjustable nose pads so you can customize them for a perfect fit every time.
Comfortable sunglasses means a good fit, and no squeezing behind the ears.
Size
Make sure your glasses are sufficiently large so that they protect you from direct and indirect radiation. The ideal pair of sunglasses reaches from your eyebrow to the edge of your face and follows the curvature of your face to shield rays from the side as well.
Look for frames made from lightweight materials so they don't put an unnecessary strain on your face and head when worn for long periods of time.
Also, make sure that the frames don't obstruct your vision or interfere with any other instruments or controls in the cockpit – this could lead to distractions during critical flight operations!
UV-protection
The sun's UV rays can be damaging to your eyes over time, so it's important to choose sunglasses that provide 100% UVA and UVB protection from harmful rays. Look for sunglasses with a label or tag that indicates this level of protection, and make sure you're not fooled by counterfeit labels.
To get the best protection, look for a UV protection label of UV400, this will block most harmful rays.
Material & quality
Pilots operate in high-stress environments which means their accessories need to be able to handle extreme conditions, including temperature changes, windy conditions, and dust particles in the air. The frame should be lightweight yet strong enough to withstand these strenuous circumstances, while still being comfortable enough to wear during long flights.
Also, make sure you have a sturdy glasses case to store your sunglasses safely.
You can read more about these recommendations in the FAA brochure: Sunglasses for pilots: Beyond the image.
Polarized vs non-Polarized
When it comes to sunglasses for flying, there's something important to keep in mind: polarization. These polarized sunglasses filter out glare, making them very popular among sportsmen who ski or do watersports. But, as you can read in the FAA recommendations above, they are no good to pilots.
The reason they are so popular is the exact reason why they are not good for us pilots: they diminish glare by blocking out horizontal light, while allowing in vertical light. This can cause issues inside as well as outside the cockpit.
How do Polarized Sunglasses Work?
Sunlight scatters in all directions. But when it strikes flat surfaces, the light that is reflected by the surfaces tends to become polarized — meaning the reflected light beams travel in a more uniform (usually horizontal) direction. This creates an annoying and sometimes dangerous intensity of light that causes glare and reduces visibility.
Polarized lenses have a special filter that blocks this type of intense reflected light, reducing glare and discomfort.
Though polarized sunglass lenses improve comfort and visibility, you may encounter some instances when these lenses aren't advisable. One example is downhill skiing, where you actually want to see the bright patches of reflected light because they alert you to icy conditions.
Polarized sunglasses can offer great advantages when it comes to decreasing eye strain and discomfort in bright sunlight, but again, they are no good use to pilots.
Why Should you Avoid Polarized Sunglasses When Flying?
First of all, if you have a glass cockpit or GPS displays, these screens usually already have an anti-glare filter. Wearing polarized sunglasses will reduce your ability to clearly read these instruments and will interfere with your ability to read LCD screens, who emit polarized light.
Secondly, polarized sunglasses can also cause trouble when looking outside the cockpit. Pilots' ability to spot other traffic is usually improved when there is some sort of sun glare reflecting from other aircraft by the sun. They can also alter cloud appearance and reduce ground reflections useful for VFR pilots.
Besides, these lenses can cause distortion patterns from certain laminated cockpit windshields.
All in all, polarized sunglasses are great for everything, besides flying. We, therefore, recommend you to buy non-polarized sunglasses for use inside the cockpit. We have only included those non-polarized sunglasses in the list above.
European CE norm
When buying a pair of sunglasses in Europe, you will notice a CE label that ensures that the product meets all legal requirements for safety, health, environment, and consumer protection.
The CE rating for sunglasses indicates how much sunlight will be able to pass through the lens. This is frequently denoted with % VLT (visible light transmission). It simply informs you how much light can get through; the higher the percentage, the less light it blocks.
There are five different CE categories for sunglasses and all of them have a different value of protection:
CE 0: The lowest level, blocks between 0 and 20% of light (80-100% VLT). These are considered standard glasses, not sunglasses.
CE 1: These block between 20 to 57% of the light and are the first category to be called sunglasses. A good option for slightly cloudy days.
CE 2: Block between 57 and 82% of the light. CE2 sunglasses are good weather sunglasses and often used for driving.
CE 3: The most commonly used CE mark. They block about 82 to 92% of the light. Perfect for sunny and bright days at sea, in the mountains, or in the clouds.
CE 4: Category 4 sunglasses block almost all visible light (92-97%). These are used in sunlight intense situations, such as mountaineering or in the desert. Never wear these sunglasses when operating any vehicle.
For all-day use, CE 2 sunglasses are a good option, but for sunny days on the water or in the air, we recommend wearing CE3 sunglasses.
Conclusion
If you want the best sunglasses for flying, we recommend going for the Randolph Engineering sunglasses. These sunglasses are US-built and meet every single requirement by the FAA, often far exceeding them. The fact that they are provided to US Air Force pilots should be enough proof these sunglasses are made for a cockpit environment.
To conclude, below are again some of our top picks when it comes to sunglasses for pilots in 2023:
Related articles worth reading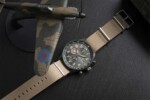 About the author
Senne Vandenputte
As a 27-year-old digital entrepreneur, glider pilot, private pilot and tow plane pilot, Senne is passionate about aviation. He started gliding at age 14 and flew his first solo in a glider at 15. After getting his PPL about 10 years later, he mostly spends his weekends towing gliders into the air. When not flying, he runs his marketing & web design business, fun projects like Hangar.Flights, scuba diving, traveling and enjoying the outdoors.