Bush planes are the 21st century equivalent of the covered wagon, steam locomotive, and pony express all rolled into one. They are mainly responsible for the survival of the modern-day frontier lifestyle by delivering essential supplies, food, medicine, mail, and equipment to people inhabiting remote, hard-to-reach areas. 
Bush planes also provide commercial transportation services, medical services, and evacuation and fight forest fires. They are used for tourism, including African safari tours and search and rescue operations. The best bush planes are built to land on almost any surface, including gravel, grass, dirt, and mud landing strips located in the middle of nowhere. 
Bush planes can be extremely fun and forgiving to fly. A bush plane can be equipped with floats to land on rivers, lakes, or beaches. Bush planes fitted with skis are a common sight in isolated Alaska and Arctic communities during winter. Pilots can become certified to fly bush planes within a few days, and in return, you get to fly over endless miles of breathtaking terrain. 
This article describes the 11 best bush planes of all time, the different bush planes, and why they are great aircraft. It contains helpful information for individuals interested in becoming bush pilots and those just curious about bush planes. 
What are Bush Planes?
Bush planes are small rugged airplanes purpose-built for flying into remote and undeveloped locations around the globe where there are no regular commercial flight services or airports and runways. Larger bush planes can seat around nineteen passengers for scheduled commercial passenger flight services. 
The earliest use of bush planes was in 1919 when Canadian pilots began using war-surplus Curtiss HS-2L naval aircraft to map forests and fight wildfires. Since then, they have become an indispensable general aviation aircraft providing an all-season lifeline to communities in the Australian Outback, the African savanna, Northern Canada, Alaskan Tundra, Amazon rainforest, and New Zealand mountains.
Requirements of a Good Bush Plane
Bush planes are designed and built to meet specific requirements. The standard design features and equipment that make a good bush plane include the following: 
An adaptable undercarriage: a bush plane undercarriage can be adapted for use on different types of terrain. For example, skis or floats can be attached, enabling the bush plane to land on ice/snow or water. 

Short Take-Off and Landing Capabilities: This is a vital bush plane requirement. The aircraft must perform short-distance landing and take-off from tight spaces and small airfields. Bush planes are equipped with high flaps, slots, slats combined with aspect ratio wings to perform this function. 

High-mounted wings: A good bush plane requirement is wings mounted on the fuselage roof. This gives the wings better ground clearance when landing on unprepared runways and provides pilots better ground visibility during landing and take-off. The high-mounted wings also make the bush plane easier to load from floating docks.

Piston engines: most bush planes are equipped with piston engines which are easier to maintain in remote areas lacking ground infrastructure and standard maintenance tools. 

Taildragger landing gear: a typical bush plane lacks a nosewheel. Instead, it features two more durable main wheels and a tailwheel design. This design reduces undercarriage landing damage, drag, and airframe stress while increasing speed and payload capacity. Additionally, bush planes could still fly even with a damaged tailwheel, and pilots can easily replace it when broken. 

Low-pressure tundra tires: bush planes are often fitted with massive low-pressure tires suitable for landing on the Alaskan and Canadian tundra. Low-pressure tires are also excellent for operating on rough runways in the African bush. 
Categories of Bush Planes
There are two broad categories of bush planes depending on the use of the aircraft. These include: 
Commercially produced bush planes: also referred to as 'ultralights,' these are factory-built airplanes specifically produced to fall within a specific speed and weight segment. They are then bought and modified into bush planes by their owners. Bush planes in this category include bush plane manufacturers such as Aeroporto and Pilatus and popular airplane manufacturers like Piper, Cessna, and Cirrus. 

Kit-built bush planes: as the name implies, they are bush planes built from a kit. The manufacturer produces the aircraft but delivers it to the buyer in a kit package instead of a ready-to-fly unit. The buyer then builds the kit into an airplane or hires a professional to perform the task. This category is experimental because the build process is handled by a third party, not the manufacturer. 

Undercarriage: bush planes can be categorized by their landing gear type. Aircraft with large low-pressure tires are suitable for landing on rough terrains like the Tundra or gravel runways. In contrast, bush planes fitted with floats or skis land and take-off from a body of water or ice/snowy terrain, respectively. Amphibious bush planes can land on water, and they also have retractable undercarriages for landing on solid surfaces. 

Seating configuration: bush planes are designed to seat between one or fifteen passengers depending on the aircraft size and purpose. Bush planes operating regular commercial passenger flights typically have seats for more than ten passengers with room for their luggage. 
The 11 Best Bush Planes of all Times
11. Grumman G-21 Goose
Country of Manufacture: United States of America 

Manufacturer: Grumman 

Year of Introduction: 1937

Role: Transport Amphibious Aircraft 

Number of Passengers: 5 – 7

Max Airspeed:

201 mph (323 km/h, 175 kn)

Range:

640 mi (1,030 km, 560 nmi)

Number Built: 345
The G-21 Goose is a pioneering amphibious bush plane initially designed as a luxury commuter aircraft for the wealthy. However, the plane was successfully modified for military use during World War 2, and eventually, as a bush plane. 
Over the years, the G-21 has undergone several modifications to its engines, avionics, windows, and landing gear to adapt the airplane for its new role as a bush plane. The G-21 Goose's large interior size, which allows for a high passenger seating configuration (for a bush plane), and its amphibious characteristics make it an excellent choice for scheduled passenger flights into the remote communities and calm waters of Alaska Inside Passage located between the Gulf of Alaska and Puget Sound. 
The G-21 can fly loads of tourists and their gear out into remote lakeside resorts or land on an improvised runway next to a mountain hunting lodge.  
10. Cessna 206H Stationair
Country of Manufacture: United States of America 

Manufacturer: Cessna 

Year of Introduction: 1962

Role: Light Aircraft

Number of Passengers: Five 

Max Airspeed:

174 mph (280 km/h, 151 kn)

Range:

840 mi (1,350 km, 730 nmi)

Number Built: 8,509
The Cessna 206H Stationair can be regarded as the workhorse of general aviation, and it can be found flying over large American towns or remote communities in the jungles of Indonesia. It is the perfect plane for short bush hops in the remote African wilderness. It can fly five passengers and their luggage to remote bush lodges making the aircraft one of the most popular bush planes among companies operating bush charter flights for Safari tourists in Kenya, Namibia, and Botswana.
The 206H Stationair powerful 310 hp Lycoming engine can handle any load hauling task you throw at it. It is commonly referred to as the "sports utility of the air" due to the rugged and beefy undercarriage capable of absorbing impacts from rocky and uneven runways. And it can be rigged with floats or skis for water landings and snowy/icy terrain. 
9. de Havilland DHC-2 Beaver
Country of Manufacture: Canada 

Manufacturer: de Havilland Canada

Year of Introduction: 1948

Role: STOL Utility Transport 

Number of Passengers: 6

Max Airspeed: 158 mph (255 km/h, 137 kn)

Range: 455 mi (732 km, 395 nmi)

Number Built: 1,657 
The de Havilland Beaver is an iconic Canadian bush plane that has been in service since 1947, and it is widely regarded as a 20th-century Canadian aviation engineering marvel. The DHC-2 Beaver is a perennial favorite of Canada's bush pilots due to its enormous load-hauling capacity, gutsy performance, and impressive STOL capabilities. 
The DHC-2 Beaver is the muscle plane of the skies. Its doors were designed to accommodate an oil drum. Over the years, scores of DHC-2 Beaver bush planes have delivered a diverse range of loads ranging from oil drums, construction equipment, medical supplies, All Terrain Vehicles, and camping gear to remote communities across Alaska, Northern Canada, and the Arctic. 
The DHC-2T Turbo Beaver is a more powerful variant equipped with a 680hp Pratt & Whitney PT6A-27 turboprop engine for better performance and payload hauling (2,450Ib) capacity. DHC-2 Beaver's undercarriage can be fitted with wheels, skis, or floats to suit changing weather conditions. 
8. Cessna 208 Caravan
Country of Manufacture: United States 

Manufacturer: Cessna

Year of Introduction: 1984

Role: Utility Aircraft

Number of Passengers: 9 – 13

Cruise Speed: 214 mph (344 kph, 186 kn)

Range:

1,232 mi (1,982 km, 1,070 nmi)

Number Built: 2,600
The Cessna 208 Caravan is one of the largest bush planes in production, and it is highly coveted among bush charter operators. It is easy to fall in love with this plane due to its vast payload capacity (8,785 Ib, 3,984.809 kg). Cessna 208 Caravans operating scheduled passenger flights can carry around eleven passengers with enough luggage space in its underbelly cargo pod and the left-side cargo hatch. 
A primary advantage of the 208 Caravan bush plane interior is that it can be configured as a cargo compartment. Cessna also makes purpose-built freighter variants known as the 208B Cargomaster operated by FedEx. 
7. de Havilland Canada DHC-6 Twin Otter
Country of Manufacture: Canada 

Manufacturer: de Havilland Canada, Viking Air 

Year of Introduction: 1965

Role: Utility Aircraft 

Number of Passengers: 19 -20

Max Cruise speed: 184.5 – 210 mph (297-228 kph, 160-182 kn)

Range: 886.8-919.6 mi (1,427-1,480 km, 771-799 nmi)

Number Built: 1,000+ 
The DHC-6 Twin Otter bears de Havilland Canada's hallmark of rugged reliability and longevity. The company ended production of the DHC-6 Otter in 1988. The bush plane's impressive STOL performance alongside its exceptional amphibious capabilities, high climb rate, and the phenomenal pulling power of its twin turboprop engines warranted a comeback. 
DHC-6 Twin Otters are very popular bush planes around the world. They can fly into remote parts of Northern Canada, Alaska, Papua New Guinea, Norway, the Antillies, and the Antarctic. Currently, the aircraft is manufactured by Viking Air which purchased Twin Otter's type certificate and marketed the plane as the Viking Air DHC-6 Twin Otter. Currently, the aircraft is manufactured by Viking Air which bought Twin Otter's type certificate and sells the plane as the Viking Air DHC-6 Twin Otter. 
6. Pilatus PC-6 Porter
Country of Manufacture: Switzerland 

Manufacturer: Pilatus Aircraft, Fairchild Aircraft 

Year of Introduction: 1961

Role: STOL Passenger and Utility Aircraft 

Number of Passengers: 10

Max Airspeed: 144 mph (

232 kph,125 kn)

Range: 450 mi (

730 km, 390 nmi)

Number Built: 595
Although the production run of the Pilatus PC-6 Porter ended in 2019, the aircraft ranks among the most durable bush planes ever produced. For starters, it has impressive STOL  capabilities comparable only to rotorcraft.  It can land within 427 feet (130 m) of an airstrip, and it can take off within a distance of 640 feet (195 m), and there is more. In April 1960, a PC-6 prototype HB-FAN "yeti" with serial number 337 made a landing on the Dhaulagiri glacier in Nepal at an altitude of 18,865 feet (5,750 m). According to the Guinness Book of World Records, it was the highest landing of a fixed-wing aircraft. 
PC-6 Porter pilots have described the aircraft's flight attributes as surreal, and its handling characteristics are similar to that of a helicopter. During the Vietnam War, scores of PC-6 Porters operated hundreds of clandestine missions delivering troops and supplies to remote, high-altitude bases located on unprepared airstrips in the hot jungles of Southeast Asia. 
5. Helio Courier
Country of Manufacture: United States 

Manufacturer: Helio Aircraft Company

Year of Introduction: 1954

Role: STOL Utility Aircraft 

Number of Passengers: 5

Max Airspeed: 170 mph (274 kph, 148 kn)

Range: 1,090 mi (1,760 km, 950 nmi) 

Number Built: 500
The Helios Courier may be a relatively obscure aircraft compared to the more popular Cessna 208 or the de Havilland Canada bush planes. It is a serious contender for the best bush plane of all time. 
The Helio Courier is a military and civil patrol aircraft, a commercial passenger transport, a cargo delivery floatplane, and an essential lifeline for missionaries serving in isolated jungle outposts. The bush plane features an indestructible taildragger design which can be rigged with skis. Variants of the Helio Courier are a common sight over Alaskan skies, where the bush plane is considered by many as a guardian angel. 
4. CubCrafters XCub
Country of Manufacture: United States 

Manufacturer: CubCrafters

Role: STOL Utility Aircraft 

Number of seats: 2

Introduces: June 2016

Max Airspeed: 153 mph (246 km/h, 133 kn)

Range: 800 mi (1,300 km, 700 nmi)
Ever since Piper introduced the Cub, the iconic yellow taildragger has stolen the hearts of many pilots. Many pilots have learned to fly on a Cub, but even more are eager to get their taildragger certificate to really start working on their stick and rudder coordination that's so critical when flying a taildragger aircraft.
The Washington-based manufacturer CubCrafters built the XCub as a successor to the highly successful Carbon Cub. The company was founded in 1980 by Jim Richmond, who one day came back from a trip to Alaska, sold his home insulation business and decided to start rebuilding Cubs. CubCrafters was born.
After starting out as a business only rebuilding and modifying existing Cubs, the company later moved to building and certifying its own aircraft. With the FAA introducing the new Light Sport Aircraft class, CubCrafters introduced its 100 hp Sport Cub and later the 180 hp Carbon Cub SS. For people who prefer to buy the aircraft as a kit to assemble themselves, CubCrafters offers the Carbon Cub EX, a kit version of the Carbon Cub SS.
3. Cessna 185 Skywagon
Country of Manufacture: United States

Manufacturer: Cessna

Year of Introduction: 1961

Role: Light Utility Aircraft 

Number of Passengers: 5

Max Airspeed: 178 mph (287 kph,155 kn)

Range: 830 mi (1,330 km, 720 nmi)

Number Built: 4,400
The Cessna 185 Skywagon bush plane is everything you expect from a Cessna, an aircraft manufacturer renowned for making excellent bush planes. It fits into the small to medium-sized bush planes category, and it is suitable for flying large cargo to small remote airstrips. The 185 Skywagon can fly in and out of tight spots that larger bush planes can't. 
The aircraft features a taildragger undercarriage design that is an essential element for successful bush planes. The undercarriage can be fitted with skis or floats to increase the Skywagons versatility. 
2. de Havilland Canada DHC-3 Otter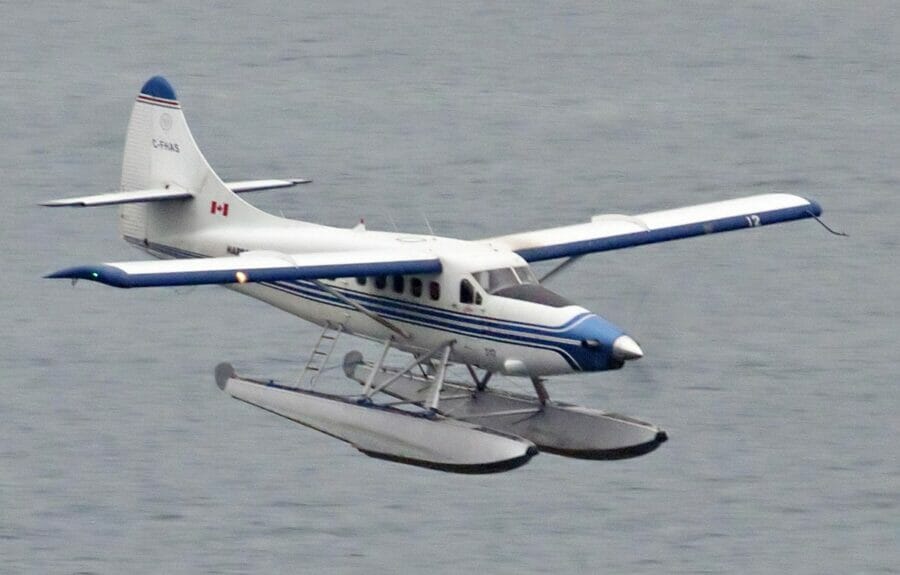 Country of Manufacture: Canada 

Manufacturer: de Havilland Canada

Year of Introduction: 1953

Role: STOL Utility Transport 

Number of Passengers: 9 – 11

Max Airspeed: 160 mph (260 km/h, 140 kn)

Range: 960 mi (1,540 km, 830 nmi)

Number Built: 466
Initially called "King Beaver" by de Havilland, the DHC-3 Otter is a larger and more powerful replacement to the successful DHC-2 Beaver. It is the design basis for the more popular DHC-6 Twin Otter. It is available in a single or twin-engine configuration, depending on the operator. 
The Otter is used for commercial passenger operations in Alaska and Canada. It has impressive STOL capabilities as the DHC-2 Beaver, making it a popular bush plane with military and civil defense operators. The Otter can be fitted with floats and skis for water landings and operating on snowy/icy terrain. Several bush pilots have described the Otter's incredible range as a reason for preferring the aircraft over other bush planes.
1. Piper PA-18 Super Cub
Country of Manufacture: United States

Manufacturer: Piper Aircraft

Year of Introduction: 1949

Role: Light Utility Aircraft 

Number of Passengers: 1

Max Airspeed: 130 mph (209 km/h, 113 kn)

Range: 460 mi (740 km, 400 nmi)

Number Built: 10,326
The Piper PA_18 Super Cub is the dirt bike of bush planes, and if you have enough money to build a luxury fishing lodge beside a scenic mountain top lake, this is the best bush plane to get you there. The Super Cub may be one of the smallest bush planes, but it has a knack of landing in places where larger and more powerful planes dare not. 
This bush plane is a STOL champ needing only 350 feet (106.8 m) distance to land or take off from virtually any surface, opening up the possibility of a quick trip into the most remote and unspoiled outlands. The Piper rugged undercarriage can be fitted with large tundra tires or a pair of floats to notch a landing on lakes, tundra benches, and gravel bars. You can add a couple of skis if you need to land on a glacier.
Read next
18 Different Types of Airplanes and What Makes Them Unique
Different types of aircraft models are designed to perform various functions. In this article, we list 18 types of airplanes and what makes them unique!
Related articles worth reading
The 14 Best Attack Helicopters in the World
Our compilation of the best attack helicopters in the world is the most comprehensive list of helicopter gunships from every era. It includes details on their firepower, dynamic handling, airspeed, advanced electronics, and gadgetry.
The 9 Best British Fighter Planes of WW2
British fighter planes of WW2 were responsible for inflicting the first German defeat of the war, buying the Allies enough time to regroup and launch the vital Normandy offensive leading to The Axis surrender.
The Best Japanese Fighter Planes of WW2
Japanese fighter planes of World War 2 rarely get the same level of respect and acclaim accorded to the Allied fighter aircraft of the same era, despite being among the best military aircraft of the war.
About the author
Senne Vandenputte
As a 27-year-old digital entrepreneur, glider pilot, private pilot and tow plane pilot, Senne is passionate about aviation. He started gliding at age 14 and flew his first solo in a glider at 15. After getting his PPL about 10 years later, he mostly spends his weekends towing gliders into the air. When not flying, he runs his marketing & web design business, fun projects like Hangar.Flights, scuba diving, traveling and enjoying the outdoors.