Pilots enjoy some of the best views this world has to offer. This creates some magnificent photo opportunities, and many pilots take good advantage of this, often by mounting small cameras in or on their aircraft.
We decided to write this guide to help you make an informed decision when it comes to which cameras to use, mounts, accessories and more frequently asked questions!
In this guide, we will be covering some of the most popular solutions for cameras to use, mounts and other accessories. We will be focussing on helping you make an informed decision to buy these products, a more in-depth guide about mounting cameras and shooting with it will follow later.
We'll start with some general things to keep in mind and then move on to some recommended products.
Mounting
Safety
When it comes to mounting stuff in or on an airplane, there are always certain risks involved. Apart from the risk of damages, there's also the legal aspect of mounting something non-certified on your aircraft. We will not cover this legal aspect more in-depth, as this depends on local/national legislation, aircraft types, etc. Always make sure to consult an A&P when making any modifications on your airplane if you're planning to permanently attach a camera mount to an airplane.
Apart from this legal risk, there's, of course, the safety aspect in case a camera gets detached from the airplane in-flight. You might want to protect your expensive cameras buy securing them with a tether wire attached to your aircraft, but keep in mind this could cause even more damage when the camera starts swinging around in the wind once if it would get detached. Again, when in doubt, consult an A&P. Better safe than sorry!
Interior vs exterior
The first thing to consider when it comes to buying camera mounts is whether you want to mount the camera inside or on the exterior of the airplane. If you wish to mount your action camera inside the cockpit, a simple suction cup mount with a flexible arm will do the job just fine. If you want to mount your camera on the airplane's exterior, you will have to experiment with different mounting spots, mounts and angles. Below, we will list a few mounts for both options, inside and outside.
Video
It's incredible what kind of footage small action cameras can produce today. With hundreds of different makes and models on the market, it could be hard to decide which cameras to get. 4k video quality has become the rule rather than the exception with most newer camera models. Besides the world-famous GoPro cameras, there are also a few different options you can consider. We will list them all later on in this guide.
Audio
Video is cool, but if you really want to tell a story, you will need to capture some audio one way or another. The built-in mic of action cameras will give you nothing but wind (mostly when mounted outside) and/or engine noise (mostly when mounted inside). Recording your intercom or ATC audio can give a great extra dimension to your videos. This is both great to relive the flight, share it with the world or just learn from your ATC calls or flight instructor's pointers.
Related
The 12 Best Aviation Headsets in 2023 and How to Pick the Right one
Buying an aviation headset should be a well-thought-out decision. We researched the best aviation headsets on the market to help you pick the right one in 2023!
Regulations
FAA regulations concerning action camera's
Something to always keep in mind when recording your flights is the applicable regulations, be it by the FAA in the US or EASE in Europe.
The following excerpt comes from an FAA safety briefing from 2014:
As with every other piece of equipment used in connection with flying, it is important to preflight your devices. A foundational question is whether the device you plan to use is, or is required to be, FAA-approved in terms of installation. Generally speaking, regulations prohibit the attachment of non-approved devices to a type-certificated aircraft. However, Title 14 Code of Federal Regulations (14 CFR) section 21.93 permits a minor change to type design, defined as "one that has no appreciable effect of weight, balance, structural strength, reliability, operating characteristics, or other characteristics affecting airworthiness." A minor alteration can be approved through a simple logbook entry or the issuance of a supplemental type certificate (STC).
The method of installation matters in terms of whether FAA approval is required. If the camera is a secondary portable unit hand-carried onboard (inside the aircraft), the FAA typically will not get involved. Most cameras used by GA pilots are self-contained, portable, and sufficiently lightweight to have no appreciable impact. The method of mounting the camera, however, still has to be evaluated and installed or attached using a method acceptable to the FAA. For example, a yoke-mounted iPad holder has no appreciable effect on handling the aircraft, and these devices do not affect airworthiness.
If, on the other hand, the installation is attached to the aircraft by hard-point methods such as bolts and screws, or if it interfaces with aircraft navigation or electrical systems, it becomes a major alteration because it may appreciably affect airworthiness. This kind of installation requires use of other FAA-approved data or a field approval evaluation. Methods such as glue, suction cups, or duct tape are typically not acceptable, in part because their failure could cause harm to the aircraft or persons on the ground or in the aircraft.
The bottom line is that all installations require some sort of approval. Each must be evaluated for its application and complexity to ensure safety. If you have a question, start by calling your local Flight Standards District Office (FSDO).
Once you've ensured the proper installation, the next step is to ensure that all devices used for in-flight photography are safely secured. Never place a camera, GPS, or any other mobile device in a location where it could literally be a flying hazard (e.g., freely flying around the cockpit in the event of turbulence). Even if an unsecured device doesn't hit anything, it inevitably creates a distraction from flying duties.
Some more interesting reading material covering this topic can be found on Flightflix's website in their FAA Guide to Camera Mounts.
The Best Airplane Action Cameras for Pilots in 2023
1. GoPro HERO10 Black
GoPro recently announced their newest flagship camera, the GoPro HERO10 Black.
All-out speed and ultimate ease, now in the most powerful GoPro ever. Powered by the revolutionary new GP2 processor, HERO10 Black shoots 5.3K video with double the frame rate, 23MP photos, enhanced low-light performance and game-changing HyperSmooth 4.0 video stabilization in all modes. On top of all that, HERO10 is cloud connected—so the moment you charge it, your footage is automatically uploaded to the cloud.
Learn more about this camera
2. Drift Ghost 4K+ Action Camera
The most powerful Drift camera ever made. The Ghost series continues with the mighty Ghost 4k+, ready to capture your world in stunning 4K Ultra-HD 30fps and providing live streaming from your smartphone!
Learn more about this camera
3. GoPro Hero 4 Session
HERO4 Session packs the power of GoPro into our smallest, lightest, most convenient camera yet—featuring a rugged and waterproof design, easy one-button control, 1080p60 video and 8MP photos.
The smaller GoPro Session cameras are perfect to use as extra cameras for some additional cool angles!
Learn more about this camera
4. AKASO EK7000 4K WiFi Sports Action Camera
If you're on a tighter budget and don't want to spend hundreds of $$ on an expensive action camera (that you might lose), this Chinese knock-off could be worth a try. It captures 4K video, has WIFI and costs about 1/4th of a new GoPro.
The cool thing about this camera is that it uses the same mounting options as the GoPro cameras, so you can use all your GoPro mounts to mount the Akaso EK7000!
Learn more about this camera
The Best 360-degree Cameras for Pilots in 2023
A 360 degree VR (virtual reality) camera offers some amazing possibilities. The camera's software digitally removes the mount from the video, making it look like the camera is not even attached to the plane at all! The editing software also allows you to pan around during the shots to create a cinematic look with an infinite amount of possible camera angles. Here's a great example by YouTuber Trent Palmer, who used the Insta360 ONE X 360 Action Camera to capture this amazing video:
1. GoPro Fusion 360-degree VR
Fusion captures spherical video and photos, recording everything so you can find the best shots later. Play it back in VR or use over capture to create traditional videos and photos you can share right on your phone. With Ultra smooth stabilization and 5.2K video, GoPro Fusion is like having a professional film crew with you wherever you go.
Learn more about this camera
2. Insta360 ONE X 360
The Insta360 One X is a 5.7K 360 camera that incorporates almost all of the best features of its competitors, and adds some features that have never been seen before in consumer 360 cameras, at an aggressive price point.
Learn more about this camera
The Best Airplane Camera Mounts for Pilots in 2023
In a later guide, we will dive deeper into the different mounting options and camera angles. For now, we will just focus on some of the best mounts you can buy to attach your camera in the cockpit or on the exterior of your aircraft.
1. GoPro suction cup mount
Attach your GoPro to cars, boats, motorcycles and more. This industrial-strength Suction Cup mount is proven at speeds of 150+ mph and engineered for stability and a broad range of motion. The short extension arm allows for ultra-compact mounting. Includes a standard base and a quick release base for moving conveniently between shots and locations.
2. Nflightcam Exterior Ball-Head Mount for GoPro
This versatile Exterior Ball-Head Mount allows you to securely mount your GoPro anywhere you have a #6, #8, or #10 machine screw. Pair this with the Nflightcam GoPro Propeller Filter, and you will be shooting phenomenal videos with ease.
3. Nflightcam Strut Clamp Mount
Mount your GoPro, Garmin, or any action camera with a 3-finger (GoPro-style) mount or 1/4″x20 threaded socket to almost any aircraft strut in seconds. This strut clamp will fit anything from a J3 cub to a Cessna Caravan.
4. MyPilotPro Mount for GoPro
MyPilotPro is perfect for any private pilot or student pilot who wants to relive their flying experience on an action camera. The mount will attach to any aircraft's rear or wing tie down. Compatible with action cameras including GoPro and Garmin Virb.
The Best Camera Audio Adapters in 2023
Your GoPro or other camera is great in the cockpit, but to capture the entire story, you need the audio from your headset, intercom, and radio.
And not just for fun videomaking; using an audio adapter to capture your intercom and ATC conversations can be a great learning tool.
The Best GoPro Propeller Filters for Pilots in 2023
To filter out any unwanted propeller noise on your footage, we recommend you use a propeller filter that you can place over de lens of your camera. Depending on the camera model and whether you want to use it inside or outside the aircraft, you will need a slightly different model. The company Nflightcam offers some great solutions!
1. Nflightcam 43mm Propeller Filter for GoPro Hero
This is the standard propeller filter and adapter from Nflightcam, designed to fit the GoPro Hero3, Hero3+, and Hero4. Designed for use INSIDE the aircraft only, this filter removes the propeller in 90% of the conditions encountered on a typical VFR flight.
Learn more about this GoPro propeller filter
2. Nflightcam 58mm Propeller Filter for GoPro Hero5, Hero6, and Hero7
This standard propeller filter and adapter designed to fit the GoPro Hero5, Hero6, and Hero7 BLACK can be used for external or internal mounting. Just like the 43mm one above, it will remove the propeller in 90% of the conditions encountered on a typical VFR flight.
Learn more about this GoPro propeller filter
3. Nflightcam Metal Cage and Propeller Filter for GoPro Hero Session
If you plan to exceed 150 KIAS or use our certified mounting options, this cage is a must. Designed for high-speed and high-impact environments where failure is not an option, this metal cage will endure the harshest environments. It is intended for use both in the cockpit or mounted externally on your aircraft. The metal cage is designed to accept threaded 52mm lenses.
The package includes a Neutral Density (ND8) filter for removing the propeller, and you can use your own polarizers or other filters for other activities.
It is compatible with the GoPro Hero4 Session and Hero5 Session.
Cockpit Camera Kits for Pilots in 2023
1. Nflightcam Cockpit Video Kit for GoPro Hero5, Hero6, and Hero7 Black
If you decided to buy one of the newer GoPro models, this Nflightcam cockpit video kit could be a great option.
Designed specifically for the Hero5, 6, and 7 Black, this kit incorporates the best camera accessories available. The 58mm Propeller Filter removes the propeller in 90% of the conditions experienced on a typical VFR flight. This filter and adapter combo is designed and tested for use both inside and outside the aircraft. The adapter also accepts all other 58mm lenses, allowing you to attach a range of filters to your GoPro for other applications. Also found in this Ultimate Action Camera Cockpit Mounting Kit, this vacuum suction cup has industrial-strength holding power, and the fully-articulating stainless steel arm allows complete freedom to aim the camera in any direction. This suction cup and stainless steel arm combo is designed and tested for use inside the aircraft.
Compatible with: GoPro Hero5, Hero6, and Hero7 Black. NOT compatible with any other GoPro, such as Hero7 White or Hero7 Silver.
Additional tips for using a camera while flying
Experiment with different camera angles. An exterior view under the wing towards the cockpit is cool, but have you tried mounting a camera under the tail facing forward? Keep experimenting to find cooler angles!
Video is cool, but audio really enhances the story you want to tell. Use of the previously mentioned audio adapters to record your Intercom/ATC audio
Safety is always priority number one. Make sure everything is safe and legal when flying with your camera mounted in or on the aircraft
We recommend you use a propeller filter for better results
More tips about mounting will be covered in a future guide!
Conclusion
Depending on the aircraft type and your desired camera angles, different gear will better suit your needs. GoPro cameras are always a great idea and they offer incredible flexibility when it comes to mounting, audio capturing and control.
You might have noticed a lot of the products included in this guide are made by a company called Nflightcam. We are not paid or asked to include their products, but after reading hundreds of reviews and articles, their products seem to be some of the most popular and efficient on the market today.
Now that you've read about some great and useful cameras and mounts to use for your flying videos, read our next guide on how to mount your camera easily and safely, with lots of examples and tips!
Related articles worth reading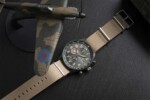 About the author
Senne Vandenputte
As a 27-year-old digital entrepreneur, glider pilot, private pilot and tow plane pilot, Senne is passionate about aviation. He started gliding at age 14 and flew his first solo in a glider at 15. After getting his PPL about 10 years later, he mostly spends his weekends towing gliders into the air. When not flying, he runs his marketing & web design business, fun projects like Hangar.Flights, scuba diving, traveling and enjoying the outdoors.