Airplanes are expensive and complex machines with exterior surfaces that require painting to protect them from damage and corrosion. Over time, airplane paint jobs have included the registration number, the model name or numbers, and the owner's official brand livery.
Commercial airliners used to be painted (and some are still) with national flags or emblems in their respective countries. However, the emergence of competitive low-cost carriers in the commercial air travel sector has transformed airplane fuselages into giant flying advertising billboards emblazoned with eye-catching images or logos of your favorite beverage or sports drink, credit card company, or cartoon characters.
You may have thought about how planes get their attractive livery if you are like me. The answer to that question is much more straightforward than what we believe. The painting process is the most straightforward part of airplane production, and it is similar to an automobile or house but on a larger scale. Plus, painting an airplane is not a DIY job but for qualified specialists.
Our article on how airplanes are painted breaks down the entire process, including the costs and reasons you need to paint a plane. We also take you through the step-by-step stages of painting an aircraft if you are thinking of a career in aviation painting or just into that stuff. Either way, you are sure to thoroughly understand how airplanes get painted.
Is it necessary to paint a plane?
Although some aviation buffs may argue that painting an airplane adds tons of weight to a machine whose components are designed to shed every unwanted gram for greater fuel efficiency (the paint on an Airbus A380 weigh an estimated 1,103.31 pounds/500 kg), airplanes benefit more from having a layer of paint because, without it, the fuselage, wing, and other exterior parts (metal or carbon composites) can be damaged relatively quickly during everyday flight operations.
Below are a few reasons why airplanes need painting: 
To protect the exterior metal and carbon fiber surfaces against impact damage, corrosion, and oxidation from dust particles, volcanic ash, sand grains, ice, and salt crystals pelting the aircraft at high speeds.
Painting an airplane reduces its heat absorption increasing cooling efficiency.
To protect the metal and carbon composite exterior surfaces from UV radiation and degradation from operating under extreme temperatures ranging from -55OC to +100OC.
Spills from fuel and de-icing, including remnants of lubrication oils or grease, could result in metal corrosion or breakdown of the carbon-fiber material compounds used in aircraft exterior components.
It is more cost-effective to paint an airplane in the long run than constantly repolishing tarnished aluminum alloys or carbon composites used for the airframe.
Painting an airplane reduces surface roughness and lowers insect adhesion leading to reduced skin friction drag and increased laminar airflow and which improves drag.
Painting an airplane is an excellent method of getting worldwide brand exposure for airlines and corporate organizations.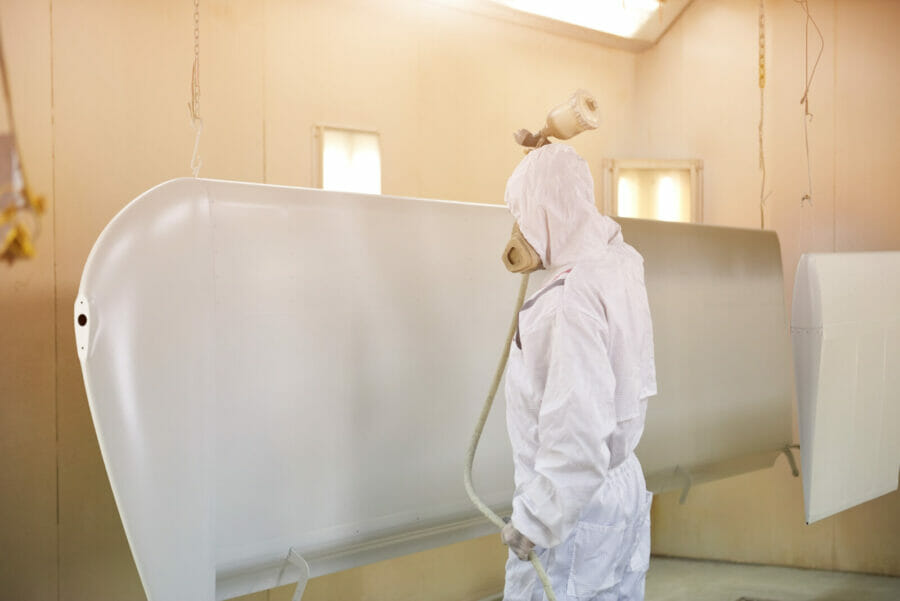 How are airplanes painted?
Painting an airplane involves putting several thin layers of paint on the fuselage using specialized painting skills and advanced low-pressure, high-volume painting HVLP equipment designed to minimize the volume of each paint layer. It may involve stripping off the old paint if the airplane already has an existing coat of paint. Each airplane paint job typically consists of three paint layers: the primer, a base coat, and a top coat, providing the airplane with its glossy appearance. Planes with special livery or intricate patterns may require artists to use paintbrushes. Modern painting techniques often need 3D computer graphics to produce complex graphics and determine how the finished paint job would look on the airplane.
The steps below outline the painting process enabling you to understand how airplanes are painted.
The airplane owners commission a livery design, and they collaborate with an independent creative agency to implement the drawings and color schemes. The process varies per aircraft model and size.
Stencils of the livery drawings are made using computer-aided design graphics. The stencils are large canvas pieces that the painters lay on the fuselage and spray with paint to produce the desired patterns.
Aircraft paint facilities initiate a comprehensive work plan detailing what is required for a successful paint job. They establish the paint type and livery patterns for the job, including calculating the volume of paint needed and other resources.
A certified mechanic performs a damage inspection on the plane exterior by checking for cracks in the material, loose rivets, and dents. These are repaired and numbered in a "Buckle and Dent" report documenting all the repairs performed on the plane. The numbered repairs are written on the airplane.
The workers move the plane into the paint shop and wear protective clothing, including a safety harness.
The process of sanding or stripping the plane of old paint starts.  Boeing and Airbus airplanes are partially sanded and partially stripped. The most effective and eco-friendly way of stripping paint is by spraying a liquid solvent that dissolves all the paint in 24 hours at temperatures of 25°C.
The workers clean and degrease the plane with water and soap.
The airplane receives a coat of chrome-free primer, which helps the surface adhere to consecutive paint layers.
The next layer of paint goes on the plane, typical of a polyurethane base coat.
 The livery lines, logo, color, and patterns are applied with stencils.
A final clear coat is applied over the livery paint scheme and adhesive films to seal them. The top clear coat also acts as a varnish, prevents the paint job from washing off, and offers protection from fluid and UV rays damage.
Records detailing the entire painting process are written down in the aircraft logbook according to the Federal Aviation Regulation (FAR) Part 43.
Here's an interesting timelapse video showing how KLM's first Boeing 787-10 was painted in 2019:
Timelapse: painting KLM's first Boeing 787-10 - KLM
How much does it cost to paint a plane?
As you've probably guessed, airplane painting costs vary according to the type, size, quality, and paint design complexity. You would expect to pay between five thousand to fifteen thousand dollars for a single-piston engine plane paint job. Narrow-body passenger airliners like the Airbus A320 can cost around $50,000 to re-paint, and painting a wide-body commercial aircraft like the Boeing 747 Jumbo can gulp a whopping $300,000 depending on the paint job complexity. A Wall Street Journal article reckons the cost of repainting a Boeing 777 is between $100,000 to $200,000.
A particularly egregious example illustrating the insane costs of painting an airplane is the 2020 repaint of the RAF Voyager UK's government VIP transport aircraft, which cost around £900,000 ($1.2 million) of taxpayer's funds.
How long does it take to paint an airplane?
It takes around a week to paint a Boeing 737 airliner and other similarly sized aircraft while painting an Airbus A380 takes up to two weeks. Painting smaller airplanes like light sports aircraft and recreational planes takes between 12 hours to a couple of days, depending on the complexity of the painting design.
A BBC documentary on how airplanes get painted shows it takes around 950 person-hours for a 10-person team to repaint an Airbus A319 aircraft.
What is the best airplane paint?
Airplanes operate under extreme conditions, and the paint used on the exterior must withstand high and freezing temperatures without premature fading, peeling, or cracking.,
Epoxy and enamel are the two unique compounds used for making airplane paints. Both compounds have excellent adherence and hardiness characteristics making them suitable for aviation use. Airplane paint technicians often combine the two compounds for extra strength, gloss, and durability.
Epoxy
Epoxy is a polyurethane paint known for its high adherence to aircraft fuselage and exterior surfaces. It is a non-hard drying paint with a higher chemical and heat resistance and electrical insulation than enamel. Epoxy offers a more flexible finish providing superior protection, and has a lower chance of fading, developing cracks or brittles, breaking down, or oxidizing.
Enamel
Enamel is a low-cost airplane paint option due to its high durability and chemical resistance. It holds up exceptionally well under severe weather conditions and harsh high-altitude conditions. It is a fast-drying compound that helps improve the painting turnaround time helping get airplanes back in operation faster. It has a low fade and oxidation rate and contains varnish, providing an immediate and long-lasting shine. Enamel is safer to handle, and it does not emit toxic fumes like epoxy during application.
In addition, there are other paint types like pearlized mica paint containing minute aluminum particles and unique pigments producing beautiful glittering effects. These paint types create sophisticated special effects for special liveries and images of unusual complexity. They often require special training to apply and can be very expensive.
How often can you paint a plane?
On average, airplanes can receive a coat of fresh paint every seven or ten years, depending on the usage. Commercial airplanes continually used throughout their lifetime require repainting every five to six years to prevent worm corrosion in the space between the paint and metal.
Why are airplanes painted white?
Airplanes almost always sport a white shade throughout the entire fuselage or underneath an airline's distinctive livery. And there are several reasons airplane owners love that bright splash of white color on their planes.
White color doesn't fade significantly after exposure to high altitude conditions and severe temperatures.
It reveals dents, cracks, and other exterior damage more quickly, allowing swift repair by technicians.
White paint reflects sunlight better than other colors resulting in better energy efficiency and also preventing crucial components from overheating and getting damaged.
White paint has higher visibility than other colors, which increases detection during take-off and landing, reducing potential bird strikes.
White paint is a perfect backdrop highlighting corporate logos, images, and special livery painted on airplane fuselages.
Cool paint jobs on planes
Airlines often attempt to outdo each other in emblazoning their aircraft with the most striking and colorful paint schemes. Here is the coolest collection of paint jobs we have seen yet!
Thai-based Nok Air Boeing 737 with a fun bird nose and delightful little animal images on the tail section.
Chinese Southern Airlines Boeing 787 Dreamliner sporting an elaborate collection of blue hues on the fuselage, crowned by an exquisite brilliant red kapok flower on the tail.
The Malaysian Airlines Airbus A380 blue stripes color scheme provides a striking yet subdued effect.
Sci-fi enthusiasts love Japan's All Nippon Airways (ANA) Boeing 787-9 and Boeing 777-300ER Star Wars-themed R2D2 and BB-8 liveries.
Let's go to Hobbiton in Air New Zealand's Boeing 787 Dreamliner Lord of the Rings-themed color scheme, a spectacular tribute to Peter Jackson's trilogy filmed in the country.
Icelandair Boeing 757 showcases the surreal natural beauty of the island nation with a stunning livery commemorating the Aurora Borealis or Northern Lights.
WestJet, the Canadian budget carrier, did an excellent job tugging at children's (and several adults) heartstrings with its Boeing 737-800s Disney's Mickey Mouse and Frozen-themed paint jobs.
Alaska Airlines Boeing 737 tops the cake with its elaborate Toy Story-themed livery that took 21 days to complete.
Conclusion
I believe we have answered most of your burning questions on how do airplanes get painted. Airplane paint jobs are like artworks with simple yet beautiful lines, or they can contain the most delightfully detailed patterns. Above all, airplane paint layers are designed to be as thin as possible to save weight offering economic and environmental benefits.
Related articles worth reading
What Does AOG Mean in Aviation?
An AOG situation is the direct fallout from aircraft groundings due to maintenance issues, weather-related problems, or conflicting flight schedules. Learn all about it here!
About the author
Senne Vandenputte
As a 27-year-old digital entrepreneur, glider pilot, private pilot and tow plane pilot, Senne is passionate about aviation. He started gliding at age 14 and flew his first solo in a glider at 15. After getting his PPL about 10 years later, he mostly spends his weekends towing gliders into the air. When not flying, he runs his marketing & web design business, fun projects like Hangar.Flights, scuba diving, traveling and enjoying the outdoors.