So I have been planning to write this story for the past.. well, year. Procrastination, you gotta love it.
But hey, I finally decided to write about one of thé most amazing experiences of my life until now: flying the legendary P51 Mustang.
As some of my friends now, about a 1,5 years ago I received the opportunity to join the Vintage Flights team, an organization dedicated to preserving legendary aircraft and offering people the chance to enjoy a once-in-a-lifetime flight in one of these iconic birds. I am in charge of promotion, planning and sales of flights on unique aircraft like the T6 Harvard, P51 Mustang and Fouga Magister.
I usually welcome our passengers and witness how they experience the flight of their lifes. Of course, with lots of envy… But then last August, I got offered the chance to fly 'our' P51 Mustang myself, during a fly-in event in Zoersel, Belgium. Flying an 80-year-old WWII fighter worth millions, powered by a 1500 HP V12 Packard Merlin engine is something I would never be able to afford, especially at this age. And when opportunity knocks, you open the door and get in.
The Mustang is probably the most recognized fighter of World War II. Its speed and range made it the ideal bomber escort. This Mustang was built in 1944. It served with the 434th Fighter Squadron, 479th Fighter Group as "SCAT VII" L2-W. It was the personal plane of Major Robin Olds, a triple ace who scored his 4 last kills in this particular machine. It is one of those rare P-51 Mustangs who survived WWII and is now still flying in the same color scheme it had over 70 years ago.
So here I was, a 23-year-old then PPL student pilot, about to fly a WWII P51 Mustang in the skies over Flanders, Belgium. As you can imagine, a surreal feeling.
The standard P51 package includes 30 minutes engine time, with at least 20′ guaranteed airborne time. When waiting on the ground for passengers to return, these 30 min always seem long, but I can guarantee that when you're inside the airplane, those minutes are over in a blink of an eye. There are not many things in this world that will give you the same 30-minute thrill as flying a legendary WWII fighter airplane, cruising at speeds well over 300 MPH. The fact that this aircraft was the personal P51 Mustang of WWII triple-ace Maj. Robin Olds makes this piece of history even more unique.
We took off from the former military airfield of Zoersel/Oostmalle in Belgium, where we attended a fly-in event (flights are usually operated from the home base at Antwerp airport). After a short run-up – which probably woke up everyone who was still sleeping in a 5-km radius – we continue taxiing to the runway. Due to the very limited visibility from the cockpit, the pilot opens the canopy to be able to lean outside and have a better view of what's in front of him during taxy. Opening up that throttle to full power (well technically they do not go FULL throttle anymore like in the wartime, as this would wear on the engine too much) starts to give you an idea of what it will feel – and hear- like the next 20 or so minutes.
Before the flight, the pilot usually discusses with the passenger what kind of flight he/she prefers. If you have some flying experience, you might want to take over controls for a little bit to really feel the aircraft. And that's exactly what I did, of course!
After we left the traffic circuit, we headed North for a little bit and the pilot stabilized the aircraft for the duration of the flight.
I have never, ever, been more excited to hear the words "You have control".
It's amazing how sensitive the aircraft is. It only takes a little bit of pressure on the stick to maneuver the aircraft, flying at about 300 MPH through the skies over North-East Belgium. I made some 360 climbing and descending turns, before handing over the controls again to Frédéric, the pilot. He then showed me what the aircraft was réally capable of..
Some barrel rolls and a low pass over the airfield later, he started the approach to Zoersel again. Because in landing configuration, the stall and landing speeds are so close to each other, it takes some serious skills and lots of experience to nail a P51 landing. Fortunately, Frédéric is an instructor on the P51 as well as one of the most experienced warbird technicians and pilots you will find around here.
It's only once the engine shuts off and the flight is officially over, that you begin to realize what you just experienced.. Memories that will last a lifetime.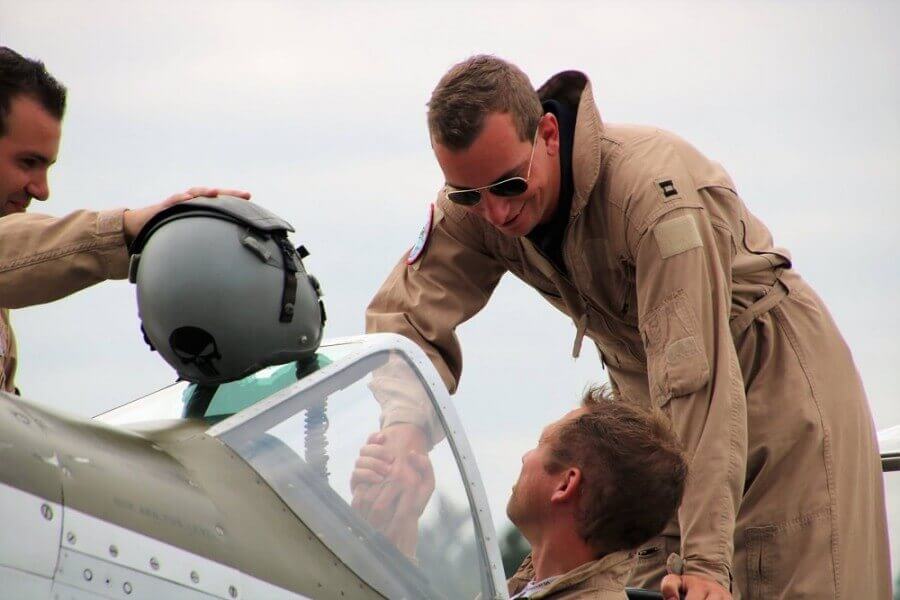 Also quite cool to see "TF-51D" between all the PA-38 Tomahawk entries in my logbook!
This has been thé most amazing opportunity in my life until now and I can only recommend it to anyone looking for an extraordinary (flying) experience.
---
Want to fly the P51 Mustang too in Europe? You can find more info on Vintage.Flights and on the Vintage Flights Facebook page!
Photo credits to Dirk Goethals and Vintage Flights
Related articles worth reading
The 9 Best British Fighter Planes of WW2
British fighter planes of WW2 were responsible for inflicting the first German defeat of the war, buying the Allies enough time to regroup and launch the vital Normandy offensive leading to The Axis surrender.
The Best Japanese Fighter Planes of WW2
Japanese fighter planes of World War 2 rarely get the same level of respect and acclaim accorded to the Allied fighter aircraft of the same era, despite being among the best military aircraft of the war.
The 10 Best German Fighter Planes of WW2
The abundance of fast, powerful, reliable, and lethal WW2 German planes is a testament to the brilliance and ingenuity of German aeronautic engineers of the era.
About the author
Senne Vandenputte
As a 27-year-old digital entrepreneur, glider pilot, private pilot and tow plane pilot, Senne is passionate about aviation. He started gliding at age 14 and flew his first solo in a glider at 15. After getting his PPL about 10 years later, he mostly spends his weekends towing gliders into the air. When not flying, he runs his marketing & web design business, fun projects like Hangar.Flights, scuba diving, traveling and enjoying the outdoors.